I was kindly gifted this elegant, sleek flat iron from Lionesse, as well as a big jar of their Nourishing & Moisturizing Conditioner. Today, in exchange, I will be giving my truthful review on these quality haircare products and a how-to for anyone who may need it.
Mentioned further down below is a few of the many ways to style your hair using a flat iron, including how to curl your hair, and this flat iron is likely the best for the job.
Lionesse – The Brand
Lionesse is a high quality hair care brand, trusted and loved by customers everywhere for their excellent hair products. They offer a wide variety of items, including many other types of flat irons, shampoos, conditioners, serums, and other utensils and treatments. Every one of their products seem to have great reviews, and I can see why.
Silk Ceramic Flat Iron: Features and Benefits

   
This flat iron from Lionesse is a quality straightener (or curler) for any hair type, including straight, curly, thick, or thin.
With a silk finish and the teal color, this is definitely one of the prettier flat irons I have seen. It looks and feels gorgeous. There is also a grip to hold due to the softness of the silk finish, which adds to the overall look in my opinion.
The Silk Ceramic Flat Iron is made with 1.5" ceramic plates, carefully made to be perfectly positioned for your hair and to spread heat evenly, leaving you with an easy and sleek look. The ceramic plates should allow for one run-through on your hair, also leaving it without dry or broken spots due to evenly maintained heat.
The flat iron has a swivel cord, 4' in length. Personally, I love swivel cords. It makes everything feel easier and safer, and you don't get all tangled up in the cord.
One thing that I don't love about the flat iron and cord, is the fact that if the cord isn't sitting straight down, the iron will likely fall. If you're like me, you prefer your flat iron to be sitting straight up, not on it's side, and the swivel cord being uneven will knock the iron over. Now even though this is something that bothers me, most people won't have any problem with this, and it's easy to overlook once you know to keep the cord pointed down.
The heat setting can be anywhere from 180o to 450o. For thin or delicate hair, start on the lower setting and move it up a little if need be. For thicker or coarse hair, you can start higher up on the heat, just be careful as heat is very damaging if not done properly.
This flat iron is supposed to heat up very quickly – according to the website, "almost instantly." I'm not telling you this isn't true, but it definitely took a bit longer than expected.
With negative ion technology, this flat iron should leave your hair frizz-free. This leads to a much better overall finished look and easier styling.
Dual voltage is another feature, which ensures safety anytime you are traveling, etc.
Nourishing & Moisturizing Hair Mask: Benefits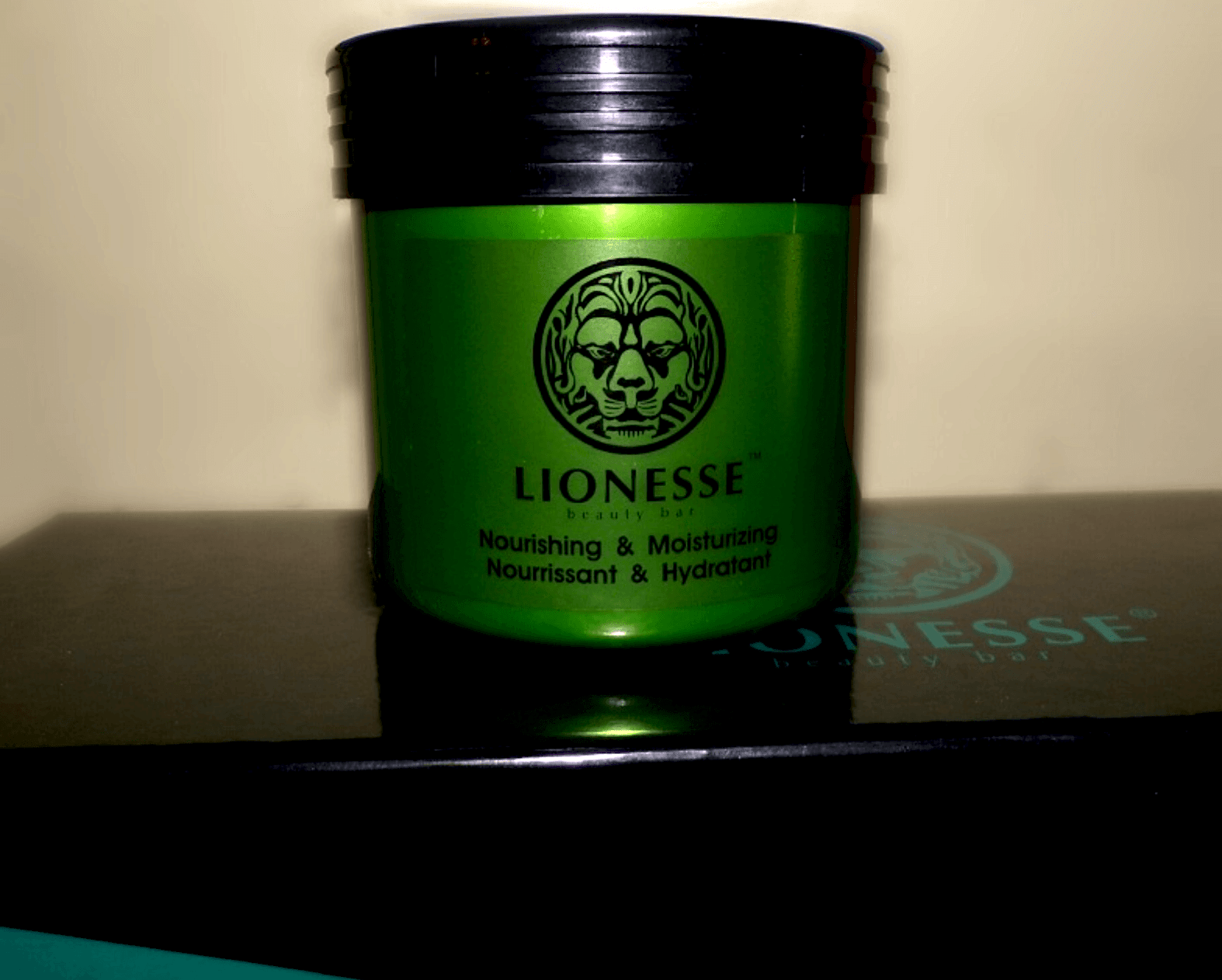 My Lionesse Nourishing & Moisturizing Mask, first off, came in a decent sized jar (18 oz), packed full of a thick conditioner consistency.
This treatment is said to restore moisture to even the driest strands, and leaves your hair soft and shining.
Conditioning How-To
This is preference, but you'll most likely want to do the conditioning treatment before straightening your hair. It has been said that well-conditioned hair holds better. 
How-to:
Use weekly

Apply a generous amount to hair, coating your strands

A little goes a long way because of it's amazing consistency

Leave on for 5-8 minutes

Rinse thoroughly

Style as usual
When opening this jar, the smell was a little overwhelming, but that quickly faded. The scent is hard to describe, but if you have used a lot of hair care products similar to this one, I'm sure you could guess the smell – very similar to other hair products. It is a nice scent, but in all honesty, I think it's something I've smelled enough of.
When applying, I used my fingers. This worked well, but if you're one who gets grossed out by weird feelings on your finger, I wouldn't recommend letting it get all over your hand and in between fingers. This part was very easy, and the mask isn't hard to spread all the way throughout your hair, which occasionally you'll find with thick products.
After using this mask, I must say my hair was soft! Not just kind of soft, but genuinely extremely soft and silky. It didn't even have to stay in my hair very long, and it worked wonders.
It also leaves behind zero residue or any type of greasiness.
Ceramic Flat Iron How-To
For Straightening Hair
My hair is pretty short and already straight, so to show off the amazing benefits of this flat iron, I took pictures of my sister's hair during the process of using this flat iron on her.
Her hair is naturally dry, curly, and very frizzy, so what better hair to prove Lionesse's claims on?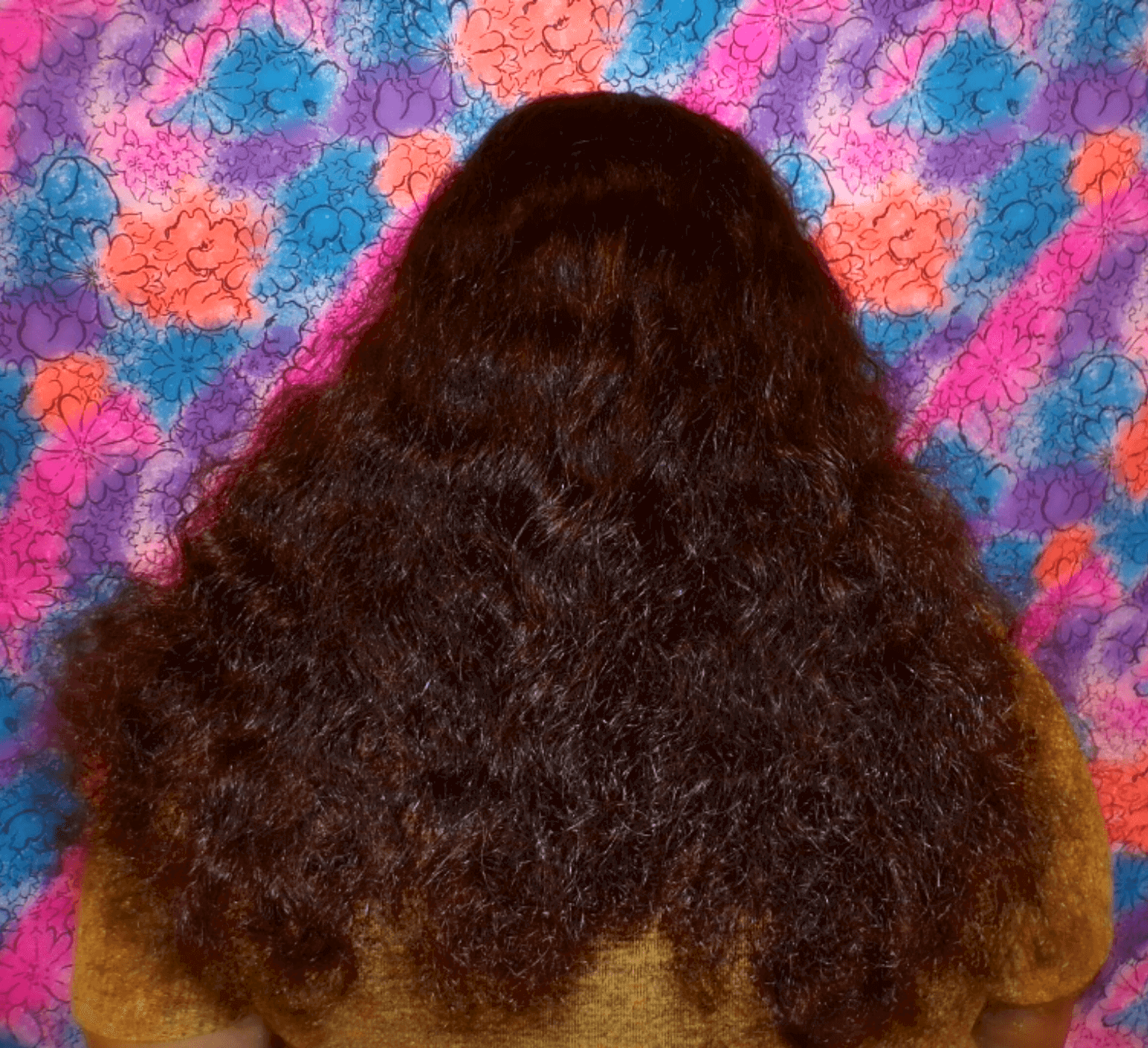 So to start, you'll want to use a heat protectant. There's a very wide variety of protectants to choose from. We just want to minimize any damage. Also make sure that your hair isn't wet, too dirty, or tangled. These can interfere with the process.
Remember to keep your hair type in mind when choosing your heat settings. If you know what's good on your hair – go for it! Please do not use a high heat if you have very brittle hair.
Then, divide your hair into about 1" sections. You can do this as you go along, or separate the pieces beforehand with clips or ties, your choice. If your hair is extra thick, you might want to start with the bottom layer and then go across your top layer.
Next, once the iron is hot, clip a 1" strand into the flat iron, clamping the heated sides down onto your hair. When doing so, get as close to your roots as possible, but do not burn your skin. Be careful and go slowly when need be. Also be sure not too clamp too hard. This can cause unwanted ridges when your hair should be completely straight.
Now, run the iron all the way down the strand, making sure not too hold it too long in any place. Again, this can cause ridges or even severely damage your hair.
Finish each strand like this, use hairspray if you'd like, and you're done.
Make sure to do this quickly enough but do not rush. Pin-straight hair takes a bit of carefulness.
After doing my sister's hair, everyone was saying, "Wow that was fast." Even for her wild, curly hair, we only needed to do one swipe each time. This cut the time to do her hair literally in half.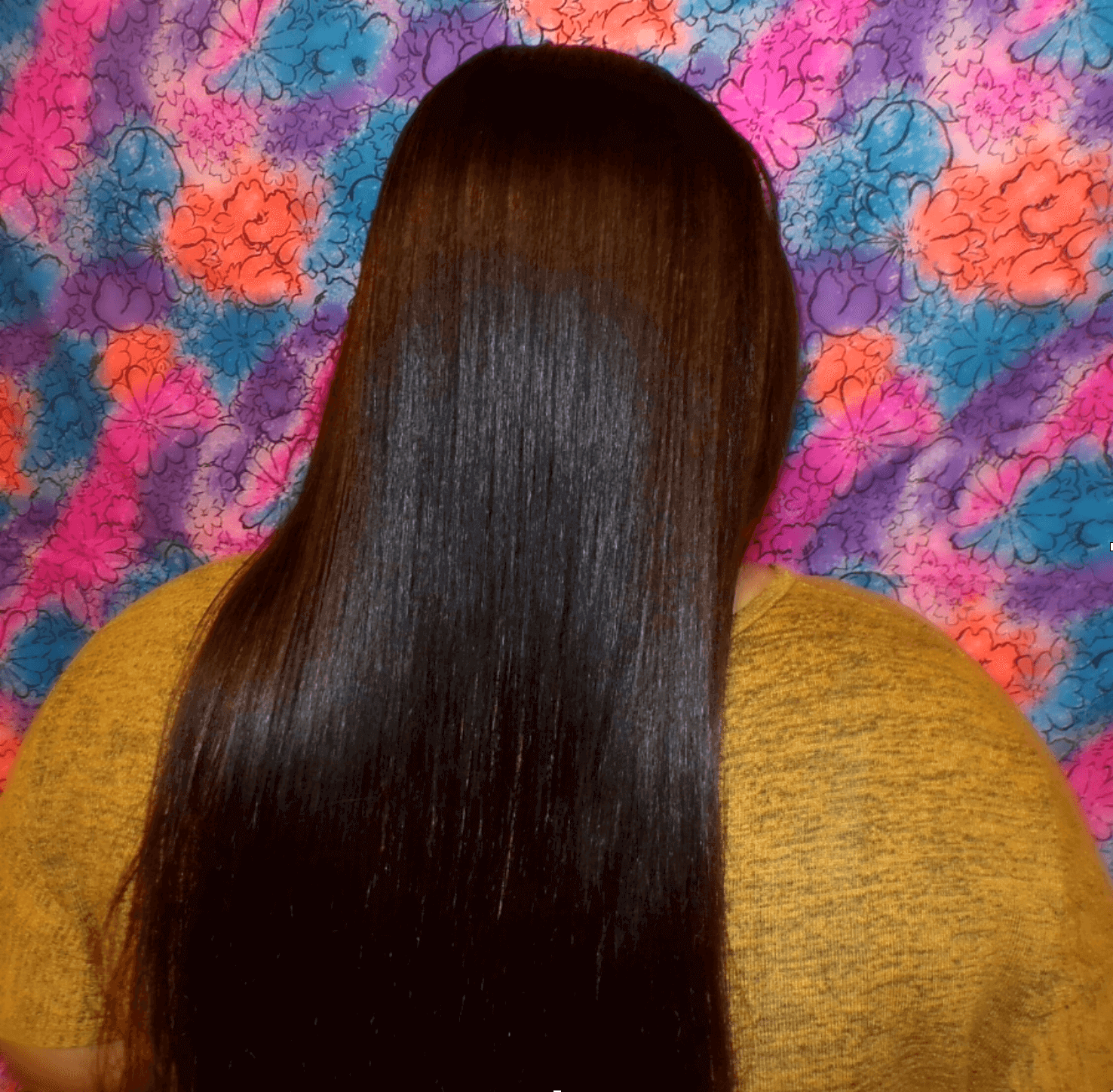 For Curling or Waving Hair
Obviously a flat iron is called a flat iron, as it was designed to straighten hair. But as many of you likely know, you can create majestic curls with a flat iron, or even get just bouncy, wavy volume. The types of curls are endless, even with a straightening product.
Regular Curls
Here, you'll use 1" strands.
Clamp the iron onto the hair at the very bottom of the section, and then roll it upwards towards the top of the head.

Leave for a few seconds, then gently release by pulling the iron downwards out of the hair.
Beachy Waves
To start, braid your hair into one tight braid.

Then run the flat iron over the braid a couple times for a couple seconds each.

Release the braid and style as preferred.
Tight Curls
To achieve tighter, kinkier curls, you'll use a pencil.

Still using 1" strands, wrap your hair tightly around a pencil. You may want to pull the rest of your hair away, into a bun perhaps.

Run the flat iron over the hair on the pencil for a few seconds.

When released, you should be left with a tight, bouncy curl.
Loose Waves
For a loose wave, use 1" strands of hair.

Run the iron through the strands, heating them.

Quickly take the warm strands, roll them up on your finger, and clip them to your head.

Leave clipped for 5-10 minutes.
Crimped Hair
I personally love the look of crimped hair! I used to own a crimper which I adored, but after receiving this flat iron, I can get back to rocking this adorable look whenever I'd like.
Divide your hair into around 5-7 sections and braid each section.

Use the flat iron over every braid.

Allow your hair to cool, then take the braids out and use preferred styling method.
Remember NOT TO:
Use a higher heat than your hair can handle

If you aren't sure or have delicate hair, start on the lowest setting

Hold the flat iron on your hair too long

Heat protectants help reduce damage, but if done improperly, hair can become very damaged from heat

Start at a weird angle or hold in one place for too long

Use too close to your skin as to avoid injuries 
Overall Thoughts
Overall, I truly loved both of these products and am very appreciative. The quality is great, and I'm convinced to invest in some of their other products, which I'm excited for.
Nourishing & Moisturizing Mask:
Nearly everything about the Nourishing & Moisturizing treatment was very enjoyable and beneficial. I wish this was a conditioner rather than a mask so I wouldn't feel silly if I used it daily.
Literally the only thing I would change is the scent. But as I said, it isn't too overpowering, and it's a decent smell, it just needs a nicer scent in my opinion.
With a thick consistency, this jar will last me a while, which is super exciting.
The benefits really showed, my hair and my sister's hair both looked luxurious and felt soft and nourished. 
Silk Ceramic Flat Iron:
The color, the silk finish, and the effectiveness of this flat iron are all outstanding.
I almost can't get over the silk, teal look of it. It's so elegant, it makes doing my hair feel fancier.
In my opinion, it could heat up faster, as well as cool down faster. I don't like having my iron sitting out, so I'd like to put it back as soon as possible. However, I found myself waiting some time for it to not be hot.
Another downfall is that is pulls your hair. I think it has to do with the connecting of the ceramic plates, but my poor sister was in pain.
Apart from those two small things, every other feature was beneficial and nice. One swipe through crazy hair will tame and straighten it. Wild!
Would I Recommend?
For both the Silk Ceramic Flat Iron, and the Nourishing & Moisturizing Mask, yes, I would recommend!
The mask would be especially good on dehydrated hair, but can benefit absolutely anyone, I'm sure. It made me adore my hair afterwards, and the soft, sleek look stays. The consistency is nice, as well as the formula and application. I loved using this treatment, and I'm sure you will, too.
The Ceramic Silk Flat Iron is the best one I have ever owned by a long shot. Every feature is useful, and you can use this in so many different ways. Not only that, but you can do it effortlessly. This flat iron only takes one swipe through on even the hardest hair to manage.
If you've got a little extra money and are looking to up your hair game in a tremendous way, invest in this flat iron, or at least give Lionesse a shot. Definitely choose Silk Ceramic if you're going for a beautiful, sleek look, though!