This doesn't happen often. But, every now and then I have to admit that my boyfriend is right about some things. These confessions are never easy for me, however recently I was quite impressed at his attention to detail with my skin. On Wednesday nights we have a routine where we watch movies, cuddle and pig out on our favorite foods. It's my favorite time of the week so immediately after work I shower and head to the couch. Well, on one Wednesday night my boyfriend stated that my skin felt really dry. Then he proceeded to ask, what I was going to do about my back acne. "Back acne!?" I screeched. I had no idea what back acne entailed, plus I had just applied lotion to my body. Therefore, I was certain he didn't have a clue what he was talking about. We began to bicker; I blamed his hands for being dry and interfering with my skin texture. Then I finally took a look for myself and (ahh!) he was absolutely correct- I had bumps and blemishes on my back.
In addition to my boyfriend being correct about the back acne and dry skin. I also have to admit that I didn't take good care of the skin on my body. I was only concerned about vanishing wrinkles and blemishes from my face at the time. I neglected the rest of my skin. Summer weather is arriving; it was now time that I started working on my glow from head to toe.
Nubi Skin
(to the rescue)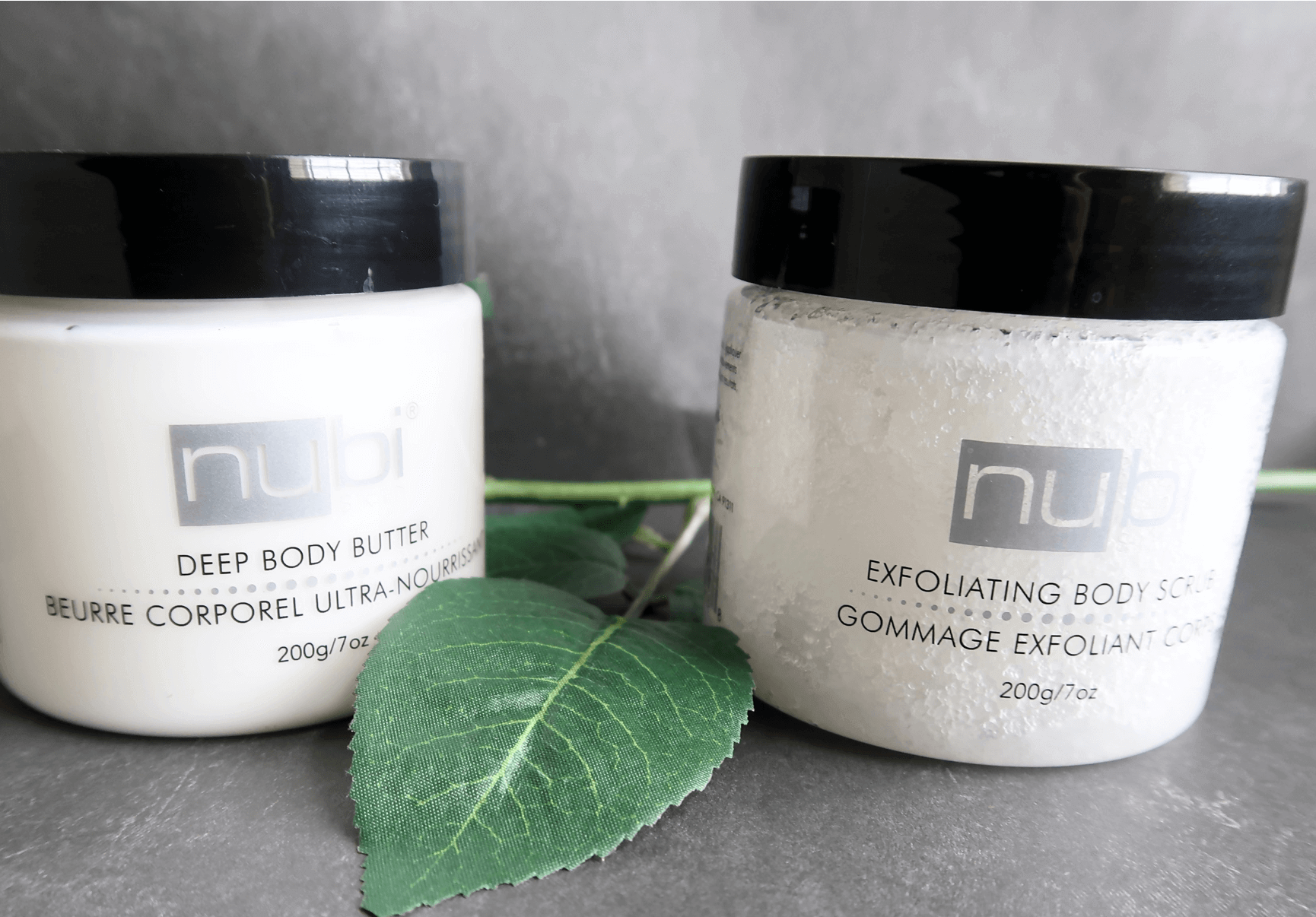 I received two products from Nubi Skin. The Nubi Exfoliating Body Scrub and Nubi Deep Body Butter. Both items had minimal packaging. They came in a clear 7oz container with a black lid. I had never exfoliated my body before. Therefore, I was excited about receiving this body scrub- yet a little nervous of the gross residue I might leave behind. Nonetheless, I knew I definitely had to research body exfoliation and this company to see exactly what I was getting myself into.
Nubi Skin carries a variety of products. The products range from facial care to body care. I immediately noticed the paraben-free statement on the Nubi Skin website. If you are not familiar with paraben here's what you should know about it:
Paraben is used in cosmetics to elongate the shelf life of the product. Paraben kills off bacteria and mold to ensure the cosmetic can still be used without harming the consumer.
However, the paraben ban from cosmetics has been quite trendy due to a

study

that found traces of paraben in breast tumors, in the 19 out of 20 women studied. The study could not directly correlate that paraben caused breast tumors. But, a significant amount of paraben was found left in the tissue of the skin- meaning paraben has the ability to go beneath the skin's surface and stay there. This study also believes that paraben activates an increased growth of the hormone estrogen. Too much estrogen is a gateway for

cancer

. 
Paraben is commonly seen by the names methylparaben, propylparaben, butylparaben, and ethylparaben in cosmetic ingredients. Paraben is commonly used in shaving cream, makeup, and deodorant.
The results of the study have brought on much speculation about whether we should continue to use paraben in our cosmetic products. The FDA has not regulated the use of paraben. According to the FDA paraben in cosmetics is safe and there has not been enough evidence brought forth to determine that paraben indeed causes cancer or any other harm to consumers. That is true. However, luckily companies like Nubi Skin are giving consumers a choice as to whether they want it in their products or not. Personally, I prefer not to have it in mine. Mainly due to the reasoning that the ingredient doesn't leave my system after application. It burrows beneath the surface of my skin and I don't want anything lingering around in my body that should not be there.
Nubi Skin impressed me with their statement of not being tested on animals and I found their mission statement to be quite noble as well. It corresponded with everything I'm looking for in a skin product. It states, "At Nubi Skin, we believe the best skin care ingredients come from nature. That's why every Nubi Skin product is infused with signature botanical ingredients, like shea butter, nut shell powder, and sunflower oil. We thrive on creating luxurious, effective formulas that enhance natural beauty and leave skin feeling fresh and rejuvenated. While you're here, we invite you to explore our site to find out more about our latest product innovations and ingredients. It's our honor and delight to be part of your daily beauty regimen."
My Review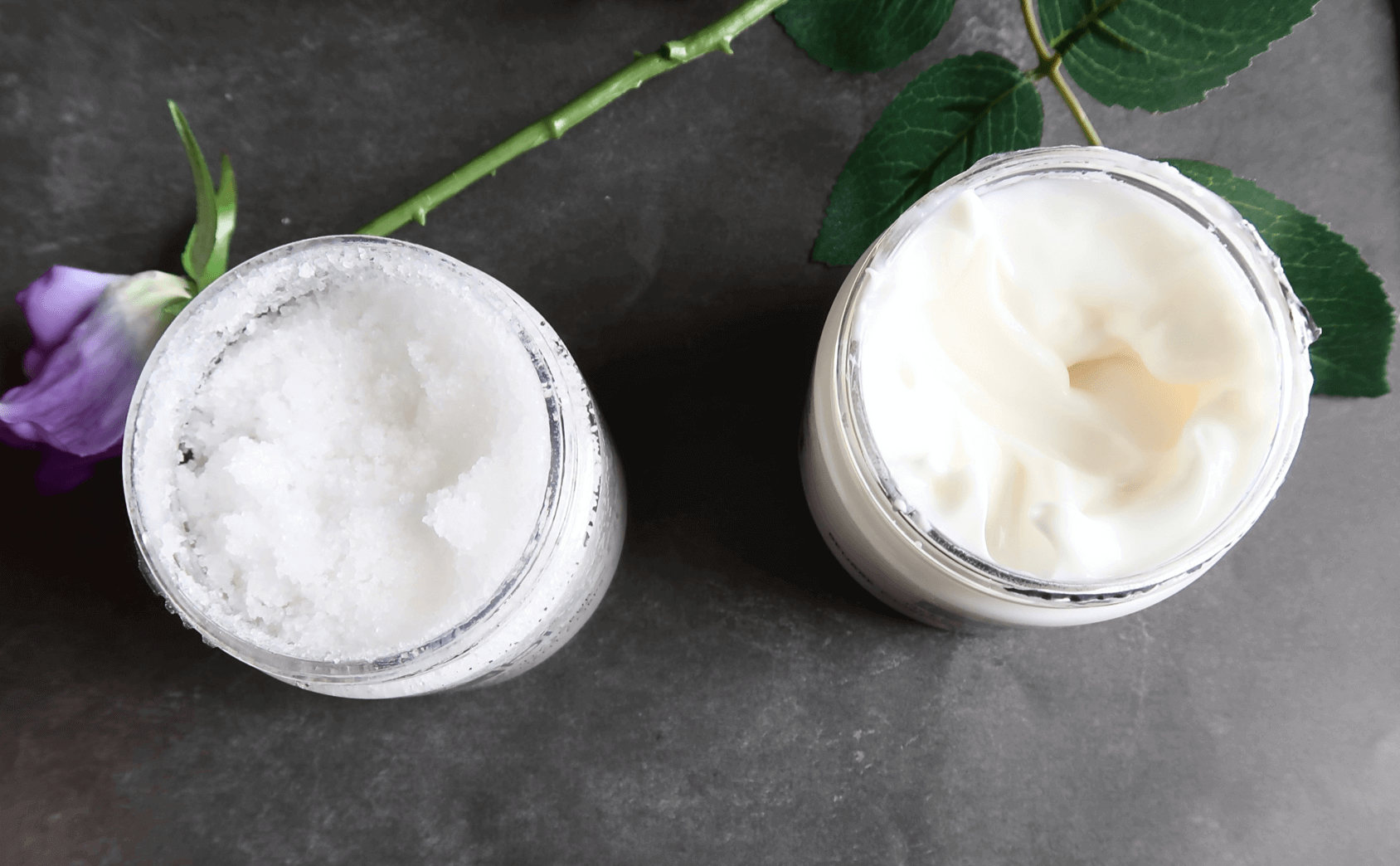 Back to my boyfriend detecting the acne on my back. I did find that back acne is common during warm seasons. Back acne has also coined the name "bacne." My recent activities involve an increased amount of sun exposure. I've been at the pool in my bikini almost every other day. Laying out in the sun and not exfoliating my skin is the recipe for bacne. The causes of body acne are the exact same as the causes of facial acne. Which is, the clogging of pores with sebum, bacteria, dead skin and hair follicles. So, it was finally time to exfoliate my body and get rid of this bacne. I decided to do a 7-day review.
Nubi Exfoliating Body Scrub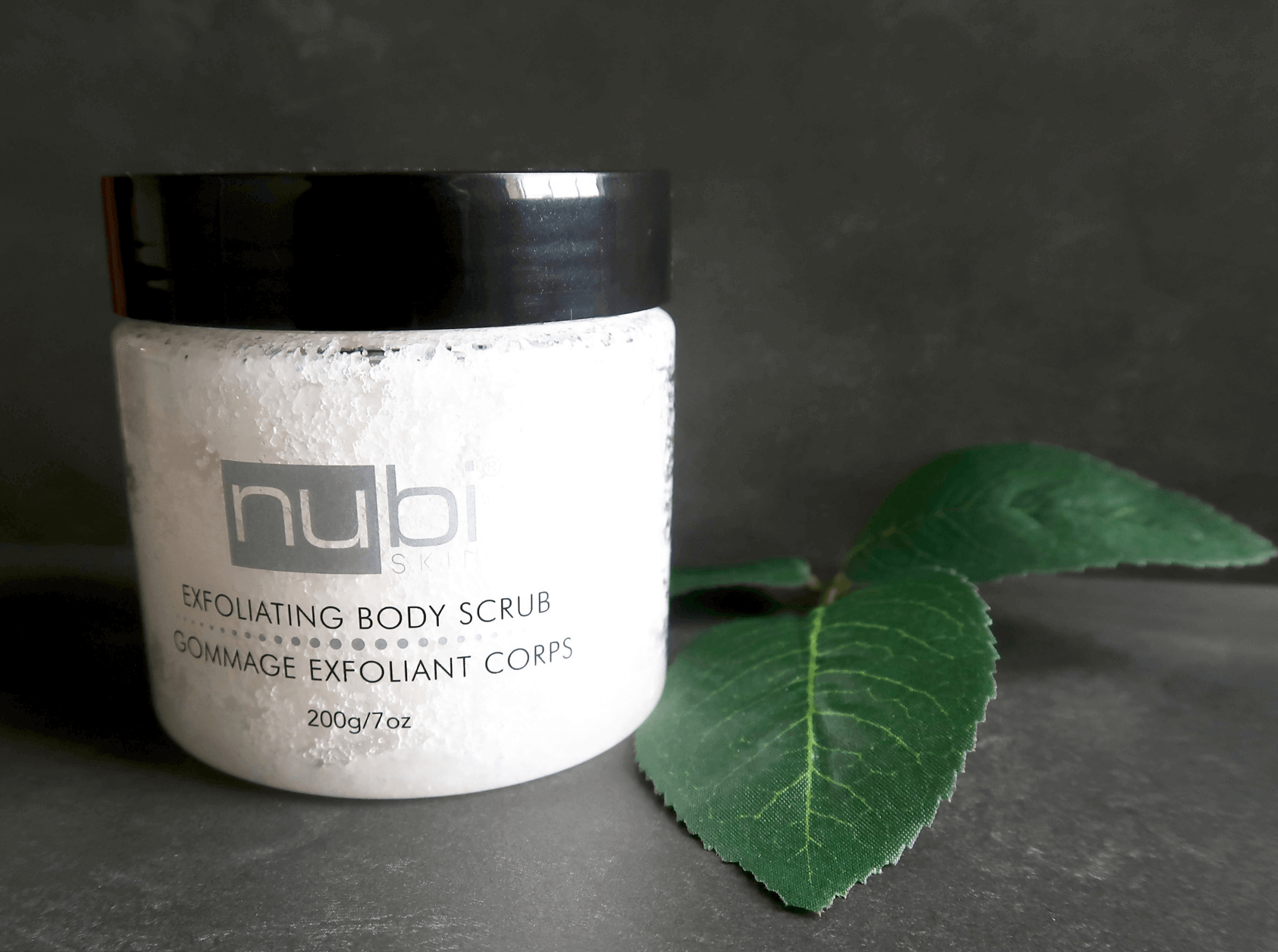 This exfoliant is sea salt based. Therefore, it has a grainy texture and transparent crystalline appearance. The scent is not unique; it's a general floral fragrance.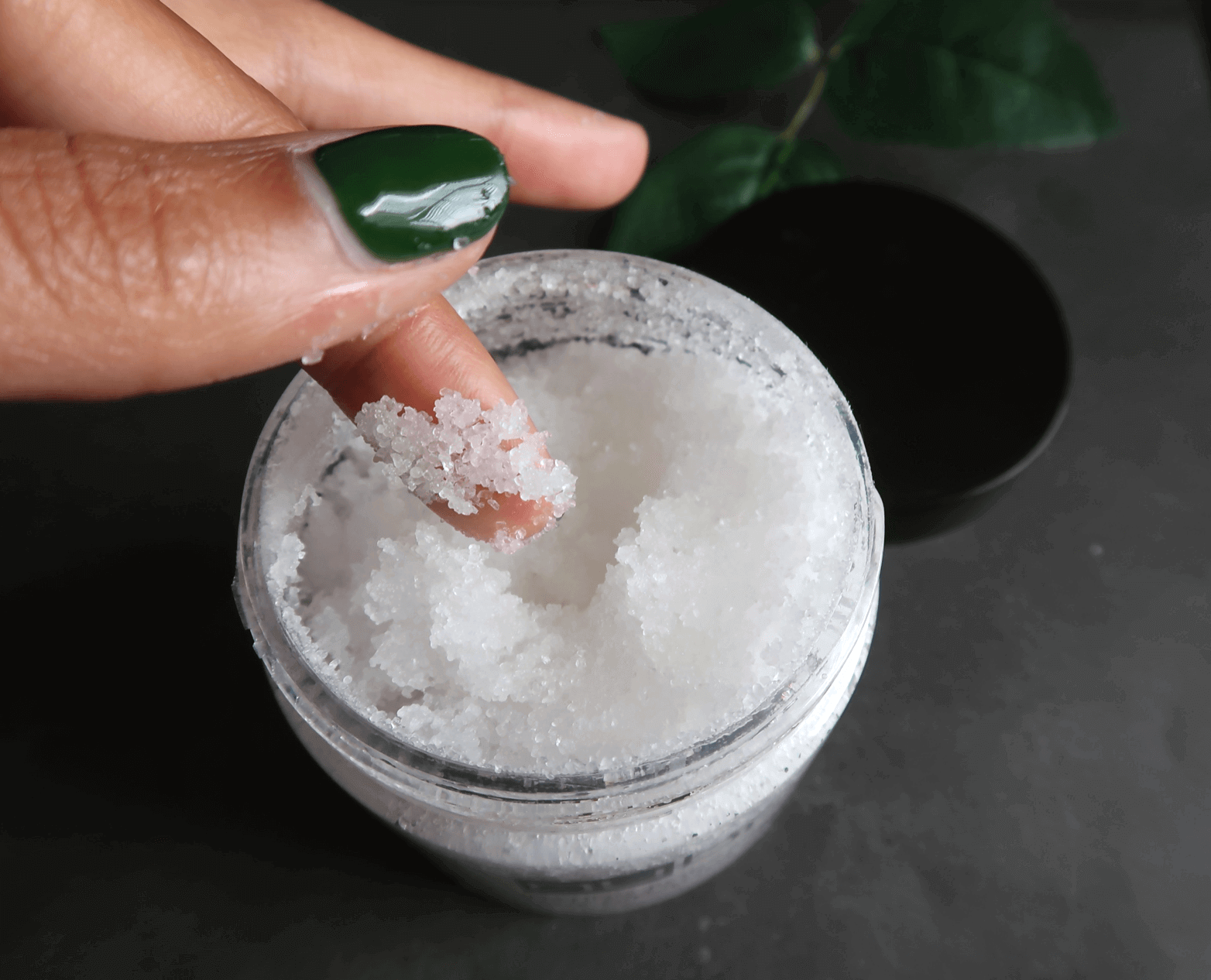 On the back of the exfoliating scrub, it instructs to use 2-3 times weekly while bathing. The exfoliant should be applied to clean and damp skin in stroking motions until the crystals are dissolved. I used about half a teaspoon to each major area of my body like legs, arms, back, and chest. I used it on my entire body, from my neck down to my feet. I applied the body scrub while showering.
Sometimes I see a lathering or soapy appearance from my facial exfoliants when applying it to damp skin. That did not happen with this body scrub. So, there was really no way for me to tell if I had rubbed it in enough because the product is transparent. I just continued to rub the body scrub in a circular motion until the grainy texture diminished. There was no immediate feeling of skin softening while in the shower. However, once I dried off I could feel that my skin had a softer texture.
This exfoliant only has four ingredients and they are salt, petroleum hydrocarbon, BHT, and fragrance. Out of these four ingredients, the only ingredient I wasn't familiar with was BHT.
What is BHT and Is It Safe?
BHT is short for butylated hydroxytoluene. It's an organic compound that is mostly used as an antioxidant in cosmetics. BHT comes in the form of a crystal-like texture and shape. The color is normally white. BHT can be synthetically produced. There has also been speculation about the safety of BHT being used in cosmetics. However, there was a study done in 2002 that concluded BHT is deemed safe to be used in cosmetics.
Bonus tip: BHT applied to cold sores will help them heal faster.
Nubi Skin Deep Body Butter
The Nubi Exfoliating Body Scrub instructs to apply the Deep Body Butter after rinsing. I also know from experience that when you exfoliate, a moisturizer is always needed afterward. Preferably immediately after while your pores are open. This gives the moisturizer a better chance to thoroughly nourish the skin. So, next up after my first exfoliation and quick dry-off was the Nubi Deep Body Butter.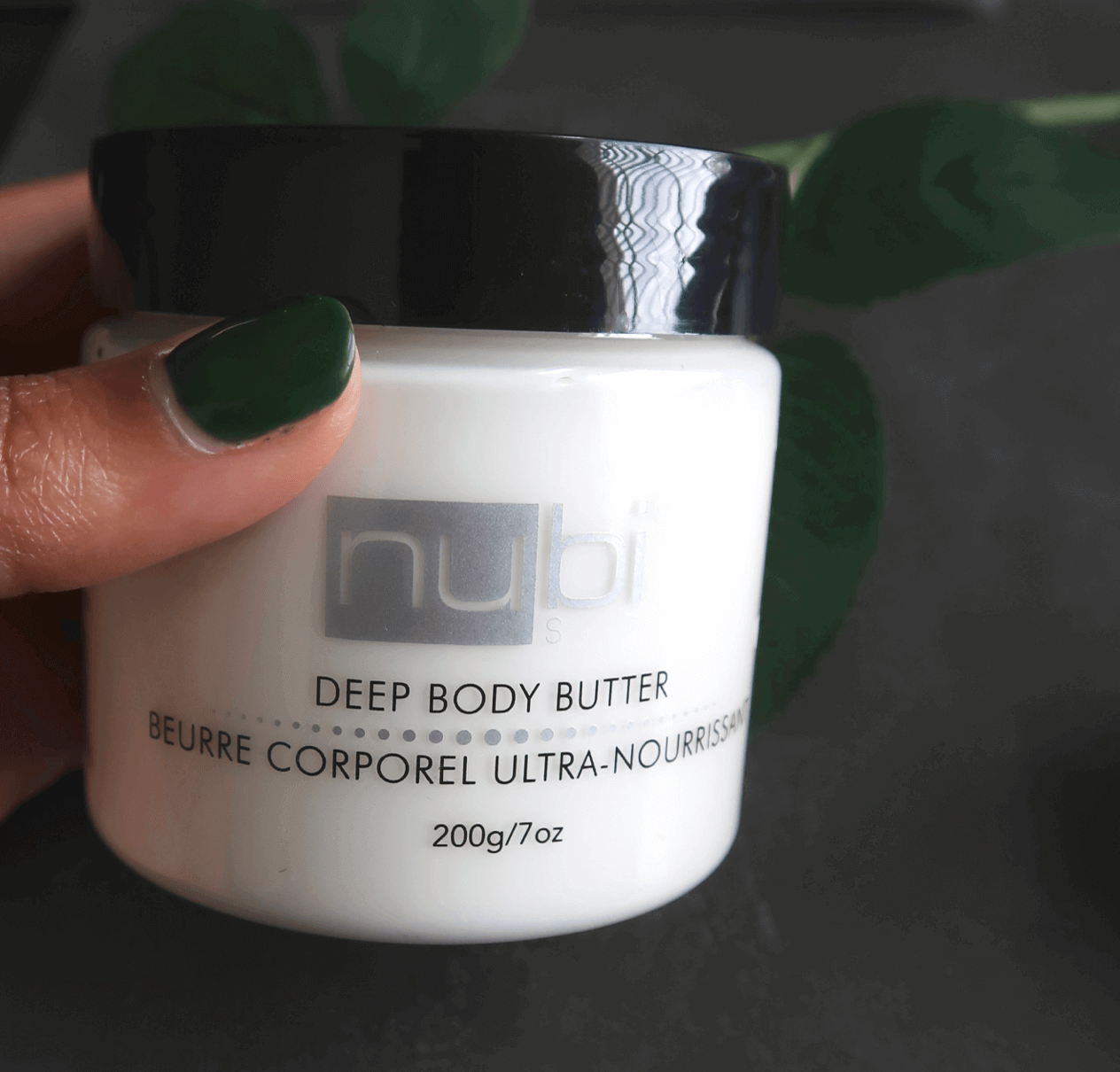 I doubled the portions used of this body butter compared to what I used of the exfoliant. I used an entire teaspoon of product to every major area. This product is called a butter, but the texture is very light and creamy- similar to a lotion. The fragrance has the same floral scent as the exfoliant.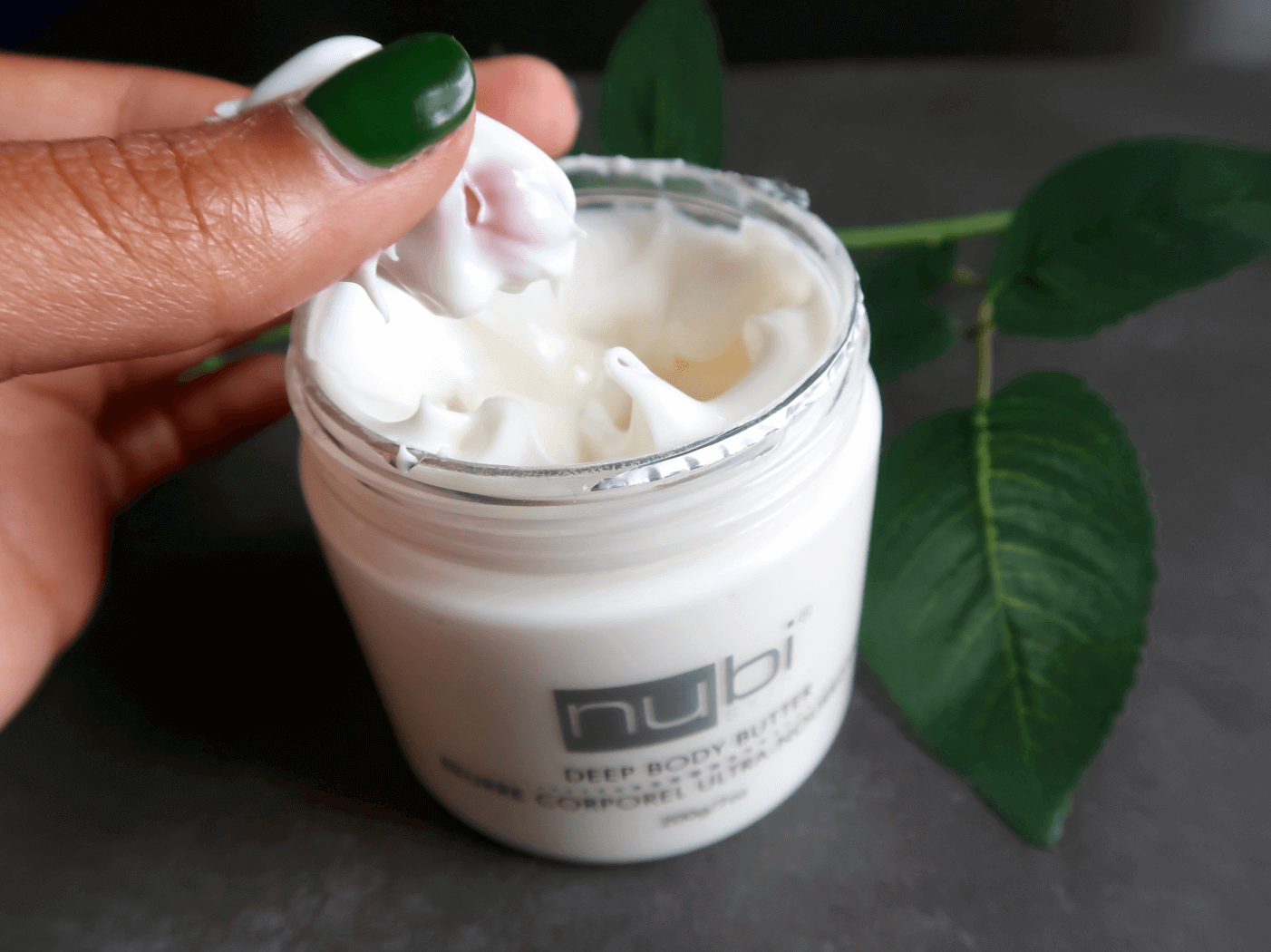 This was used from the neck down again as well. The instructions state to use it daily and to massage it in liberally. The Nubi website promises that the body butter will generate, "exceptionally soft and supple skin." And, yes, the body butter did complete the process exceptionally well and left my skin completely soothed and soft.
This first trial with both products was a big success. It seemed as if I had a new set of skin on. I felt the most significant difference in my legs. Do you know that buttery leg feeling you get after a shave? It felt like that except better because I didn't have the slight burning sensations from razor cuts. 
To continue my review, I used the Nubi Exfoliating Body Scrub two more times that week. I exfoliated every two days and I used the body butter daily after showering. I noticed that my extremely- soft- skin- bliss,  is at its best when the two products are used together. However, the daily use of the body butter did a good job of moisturizing my skin daily.
Unlike the exfoliating body scrub, there are more than four ingredients in the body butter. A stand out ingredient I noticed was the Cetearyl Alcohol. This ingredient isn't uncommon for cosmetics. It can be found in many other products like:
Shampoo

Conditioner

Mascara

Hair Cream Removal

Sunscreen

Hair Dye

Anti-Frizz products
Cetearyl Alcohol is a chemical that basically plays the role of the glue that keeps the consistency of the products together and prevents separation (also known as the emulsifier.) Cetearyl Alcohol creates a smooth and stable texture in most cosmetics. Oh, and I can't forget the most important characteristic. Cetearyl Alcohol has softening capabilities as well.
I apologize I know it seems as if we've been discussing chemicals this entire time. You're probably wondering if Cetearyl Alcohol is safe too. Constant use of alcohol on your skin is normally harmful due to the drying effect it has on the skin. However, this type of alcohol is safe and useful to the skin. The FDA and the CIR ( Cosmetic Ingredient Review Expert Panel) both concluded that this is a safe ingredient for cosmetic usage. Look for Cetearyl Alcohol in all of your cosmetics I'm certain you'll find it in at least half of your cream and foam textured items.
Results of the Review
By the end of the week, I exfoliated for a total of three times using the exfoliating body scrub and I used the body butter after each exfoliation and every single day of that week. On the seventh day, I was downright ashamed of never exfoliating my body prior to this review. I was missing out on so many beauty benefits. My slight bacne situation was not completely gone but definitely not noticeable anymore. I was officially glowing from head to toe with rejuvenated luxurious skin. I pulled out all of my short summer dresses and denim shorts that week to show off my new pair of skin.
Should You Buy Them?
The price of the exfoliating body scrub is $40 and the price of the body butter is $40 as well. I recommend buying them, however, you cannot buy one without the other. They are a dream team and I think Nubi Skin should consider selling them as a pack. The price may seem slightly above average for these products, but they are totally fair with pricing for the quality of the product.
In conclusion, the skin on your body is just as important as the skin on your face. Not only does exfoliation keep your skin youthful, but it improves the blood circulation in your body. It also prevents permanent skin damage and blemishes. Exfoliation allows your skin to be properly moisturized to keep its elasticity and shine. If you are seeking a complete youthful and rejuvenated appearance these Nubi Skin products are a great way to start the process.