Sometimes routine visits to the hair salon are not in my budget. Hell, who am I kidding, salon visits are practically never in my budget. About every six months to a year I'll make a visit to see a hair professional. During this visit, I'll get my ends trimmed and just make sure I'm not ruining my hair. Because in between those visits it is all on me to keep my hair growing and healthy. Therefore, the type of shampoo and conditioner I use is very important. I only try to use quality hair products.
I'm certain hair washing, and styling isn't a walk in the park for anyone. But, my hair requires more maintenance and energy than most. My hair is natural, and a 4c hair texture. Which means I have curls and coils that love to get dry and kinky. Therefore, when I choose a shampoo and conditioner I'm looking for a dream team of ingredients to help detangle, moisturize, and stimulate growth all at once. Nubi Hair is making that promise.
Nubi Hair
When I received Nubi Hair products I was skeptical about the quality due to its packaging. I'm used to purchasing hair shampoo and conditioners with bright colors and a bunch of words and guarantees written all over them.
But Nubi Hair kept it simple. I received the shampoo and conditioner. Both had the subtitle nourishing and moisturizing and came in a sleek navy-blue tube dispenser. At the top of the tube is the logo and on the bottom is the type of product with a brief description. There aren't any fancy names for the product or key ingredients highlighted on the packaging. I guess Nubi decided to let the product speak for itself. I can respect that. Most companies focus too much on marketing and not the quality of the product. So, let's see what these Nubi's Hair products are all about.
I did my research and found their company website. On their about page I saw this statement:
"Each of our products brings a modern twist to old-school beauty, by combining the latest advancements in technology with an exclusive blend of potent botanicals. This results in gentle, yet ultra-high-performing formulas that are able to meet the individual needs of every hair type." Because I am a minority and my hair type is distinct from the norm, I deeply appreciate hair products that are able to meet the needs of all hair types. According to the Nubi website, they use the "finest and most beneficial ingredients in the world."
It also states:
"Each of our products is designed to make your hair stronger and shinier with every use, coaxing health and luster back to the surface."
That's pretty much everything I need. I want the Nubi shampoo and conditioner to take these kinky curls and help them gain more bounce and luster.
First Wash Day
Side note: Due to my hair texture I do not wash my hair every day. Washing every day will strip my hair from its natural nutrients and dry my hair out quickly- no matter how good the product is. Therefore, this review was for the duration of seven days and during these seven days I only washed and conditioned my hair twice, every three days. In between washes, I'll explain what I observed about the health and texture of my hair.
Nubi Nourishing & Moisturizing Shampoo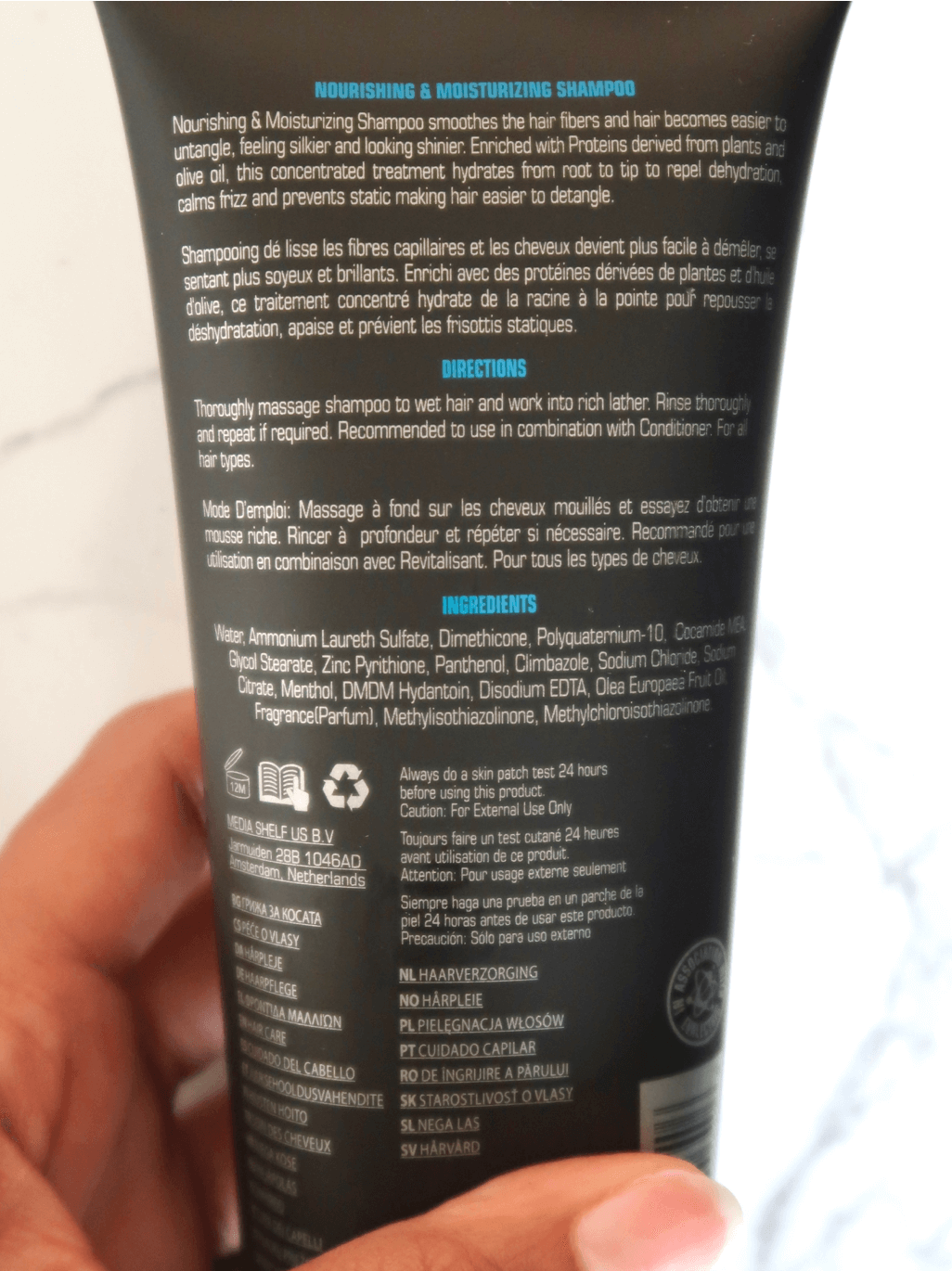 The product description on the back of the shampoo bottle mentions two things I was elated to see: detangles and calms frizz. This shampoo is supplemented with olive oil. This ingredient is very important when it comes to caring for my hair. I'll tell you why.
Olive Oil
Allow me to set a disclaimer first before I dig into the many benefits olive oil has to offer hair. Although olive oil is great for all hair types. People with thin and fine hair may not be subject to using olive oil over other oils. This is because it tends to make fine hair too greasy. However, for individuals with dry, thick and coarse hair like myself, olive oil is one of a few oils that can get a hydration job done. Nonetheless, no matter the hair texture olive oil will still provide your hair with the following benefits:
Because of the ingredient olive oil, I knew when I used the Nubi Shampoo I wanted to pay extra attention to my scalp and spend extra time massaging the product in. I washed my hair on a Sunday night. Prior to this wash day, I had gone about a week without washing my hair (thank you dry shampoo.) Therefore, I had plenty of buildup on my scalp. The itching was awful and dandruff flakes were all over my combs and brushes. I know, it was gross. 
The Nubi Shampoo has a very light and silky texture. It runs freely and quickly. I'm not quite sure what it smells like, but the fragrance was pleasant. I took a fairly small amount of the shampoo to do my first wash. I wash and rinse my hair at least three times. The directions did not recommend an amount. The only instructions are to apply to wet hair, lather and rinse thoroughly.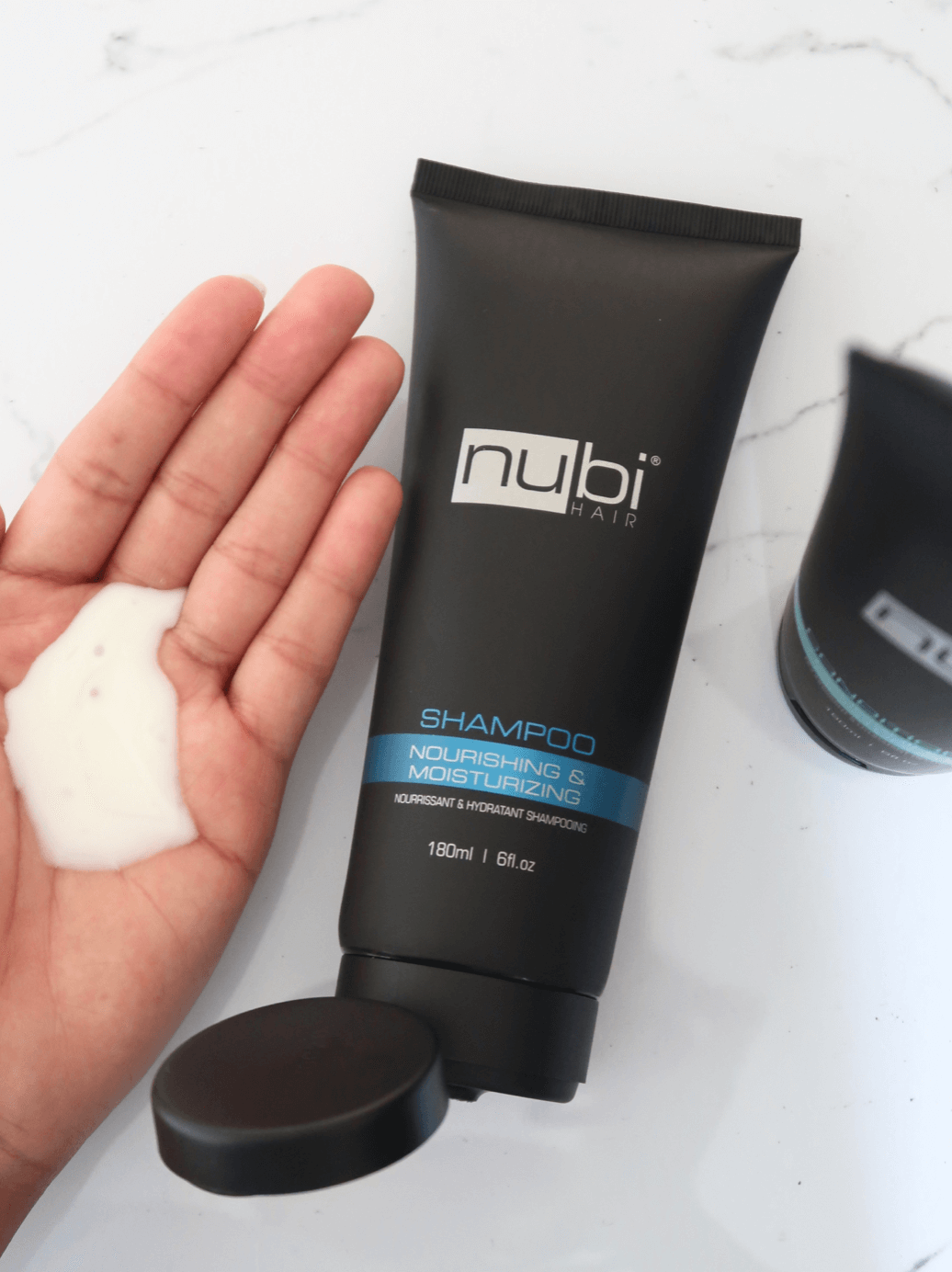 I immediately noticed softening in my hair texture. Because my hair was extremely dirty I didn't see much lathering at first. But, on my second-round lather increased. On my last round I took a comb and detangled my hair before rinsing. Detangling was not easy. I would've liked a little more help from the product on getting my comb through my curls.
Nubi Nourishing and Moisturizing Conditioner
The ingredients to the conditioner are similar to the shampoo.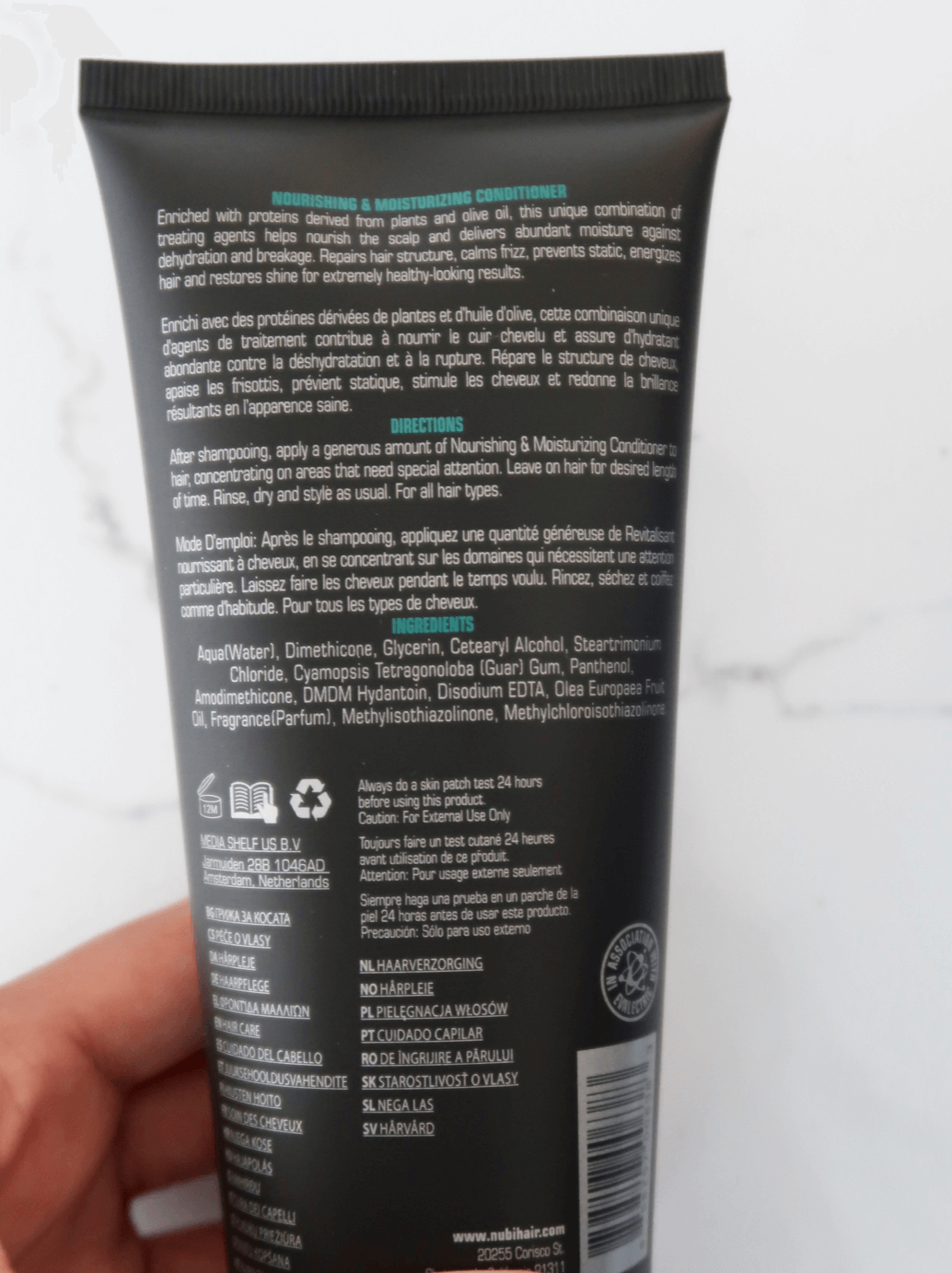 The plant proteins are a key element in both products. All hair types need protein to flourish. Have you ever done the protein test on your hair? My grandmother, who was a hair stylist, taught me this as a child. Take a strand of your hair and wet it. Then pull the strand of hair straight out. If your hair bounces back to its original state, then you have enough protein in your hair. If your hair breaks when you pull it and does not bounce back, then you need some protein. I've been doing this test ever since she taught me and so far, it has never been wrong. 
It doesn't matter if you gain protein through your diet or as a hair treatment – however, please get your protein. Here's why it's so important to hair growth:
The product description for Nubi Nourishing & Moisturizing Conditioner states, "Enriched with proteins derived from plants and olive oil, this unique combination of treating agents helps nourish the scalp and delivers abundant moisture against dehydration and breakage." 
The Nubi conditioner smell is similar to the shampoo as well. But, the texture is thicker. When applying, I used a little more conditioner than shampoo. I wanted to cover all areas of my hair. I would say I used three of the amounts pictured below to cover my entire head.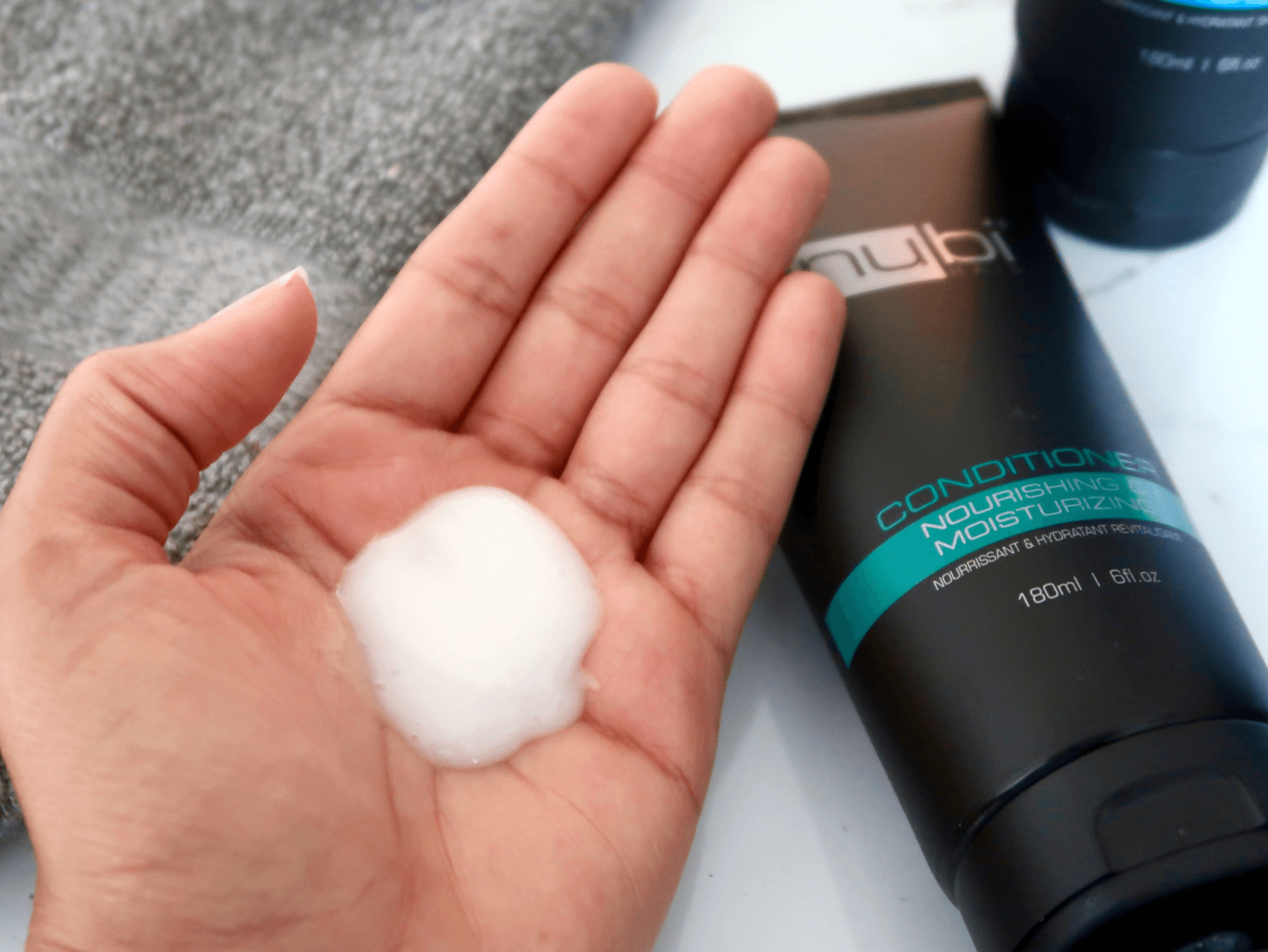 The directions state to apply the conditioner to the desired areas that need attention. I applied the conditioner on the middle of my hair shaft to the ends of my hair. I focused more on the ends of my hair this time. The directions did not give a specific time to leave the conditioner on either. I left the conditioner on for five minutes then gave my hair a rinse. Texture was again super soft, and I noticed shine. However, detangling still wasn't the best.
Second Wash Day
I followed the exact same washing process as the first wash day. But, I changed the way I used the conditioner. In attempt to help with detangling I decided to let the conditioner sit for 45 minutes this time. Also, before I rinsed the conditioner I used a comb to comb through my hair. I saw better results. I wasn't fighting with my hair this time. A few pulls but, overall the detangling was easy. I noticed more shine this time too.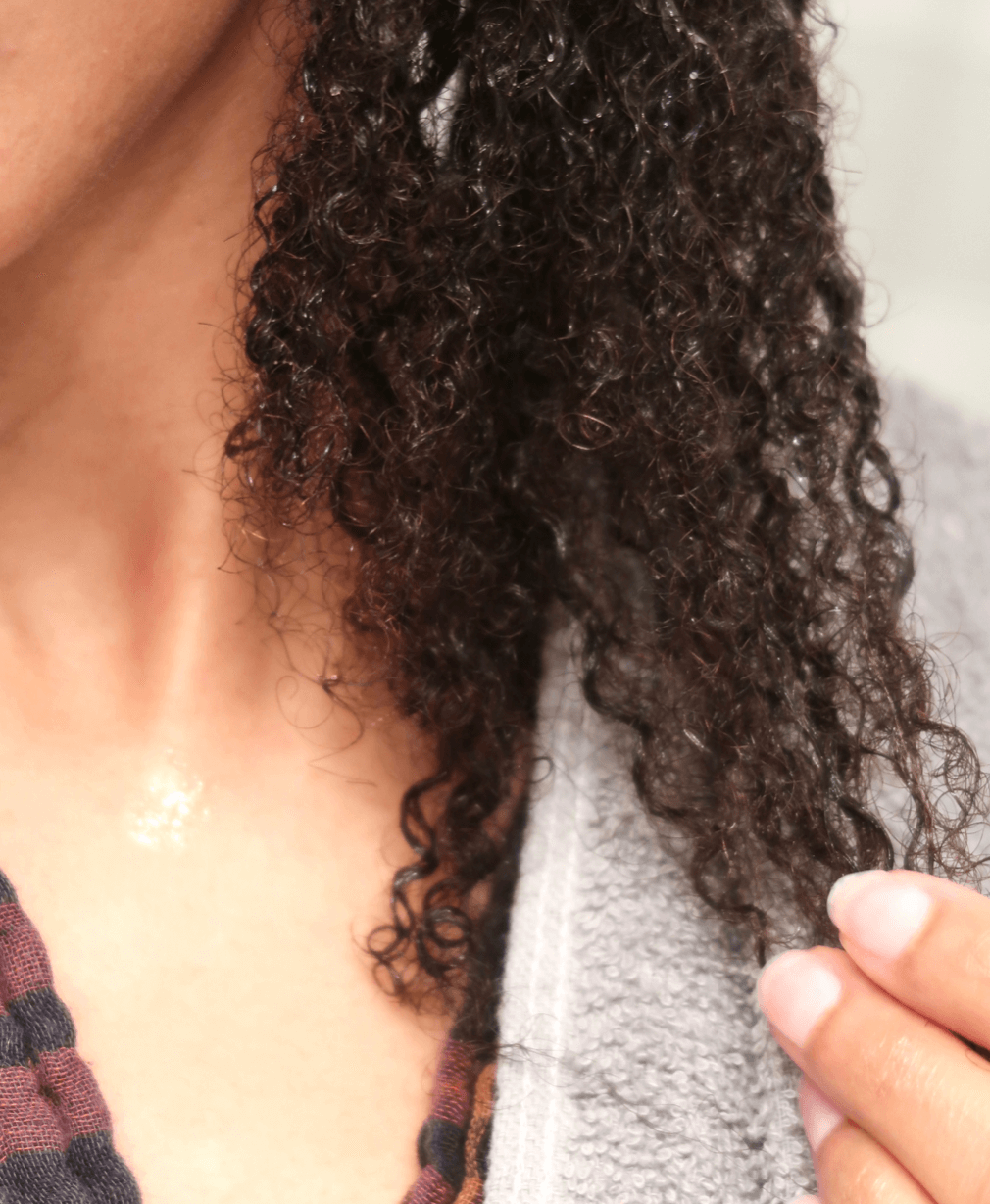 Week Observations
Throughout the entire week, I noticed more moisture and shine to my hair. I still applied some hair oil to my hair when styling, but I didn't need to put too much. The daily manageability of my hair seemed easier.
After the first wash, I styled my hair by using heat and straightening my hair. Since my hair is naturally curly, straightened hair in warm temperatures normally lasts two days (and that's if I'm lucky.) However, my hair stayed straight (without the need for a touch up) for three whole days. This is record breaking for me. I know other naturally curly girls can relate. If I wasn't doing this review I would not have washed my hair on the third day. My hair was still straight, and I was still receiving compliments.
Everyone loved the softness and shine of my straight hair. I would also like to add that this shine and softness did not come with an oily price to pay either. My hair remained light and full of volume.
My observations following the second wash are also good. After the second wash everything mentioned before steadily increased. I kept my hair curly this time. Once my hair fully dried there wasn't any frizz. I really appreciate being able to live in a frizz-free world during this warm time of year.
Worth the Buy?
At the price of $15 per shampoo and conditioner- heck yeah! You will not be disappointed with the money spent on this shampoo and conditioner. Nubi Hair is minimal when it comes to packaging, but don't be fooled like I was in the beginning. Nubi Hair products pack a powerful punch. Both products provided exactly what they said they would, nourishment and moisture, with the essential ingredients that my hair needed.
As I mentioned earlier my hair type is not commonly represented in hair products. I normally have to buy an extra product to fulfill my hair needs. But with the Nubi all I needed was to adjust my conditioning time. A longer time made everything work out well. This product is worth the purchase.   
Beauty Content Writer- tianarogers.com