If you have ever simply seen Bionyx products, you know they are really pretty and look very quality. They offer a few different types of skincare products, and I was lucky enough to try out the Bionyx Ageless Alloy Set, which I was sent in exchange for a truthful review. It comes with three different items and goes for a whopping $6,000.
Now, I definitely consider that a luxury face product. I'm someone who has never spent over $40 on one skincare item alone, because I'm not that easily impressed and wouldn't waste money on something that isn't worth it. That being said, would I say Bionyx is worth the price? Probably so, if you're not as crazy about saving money as people like me.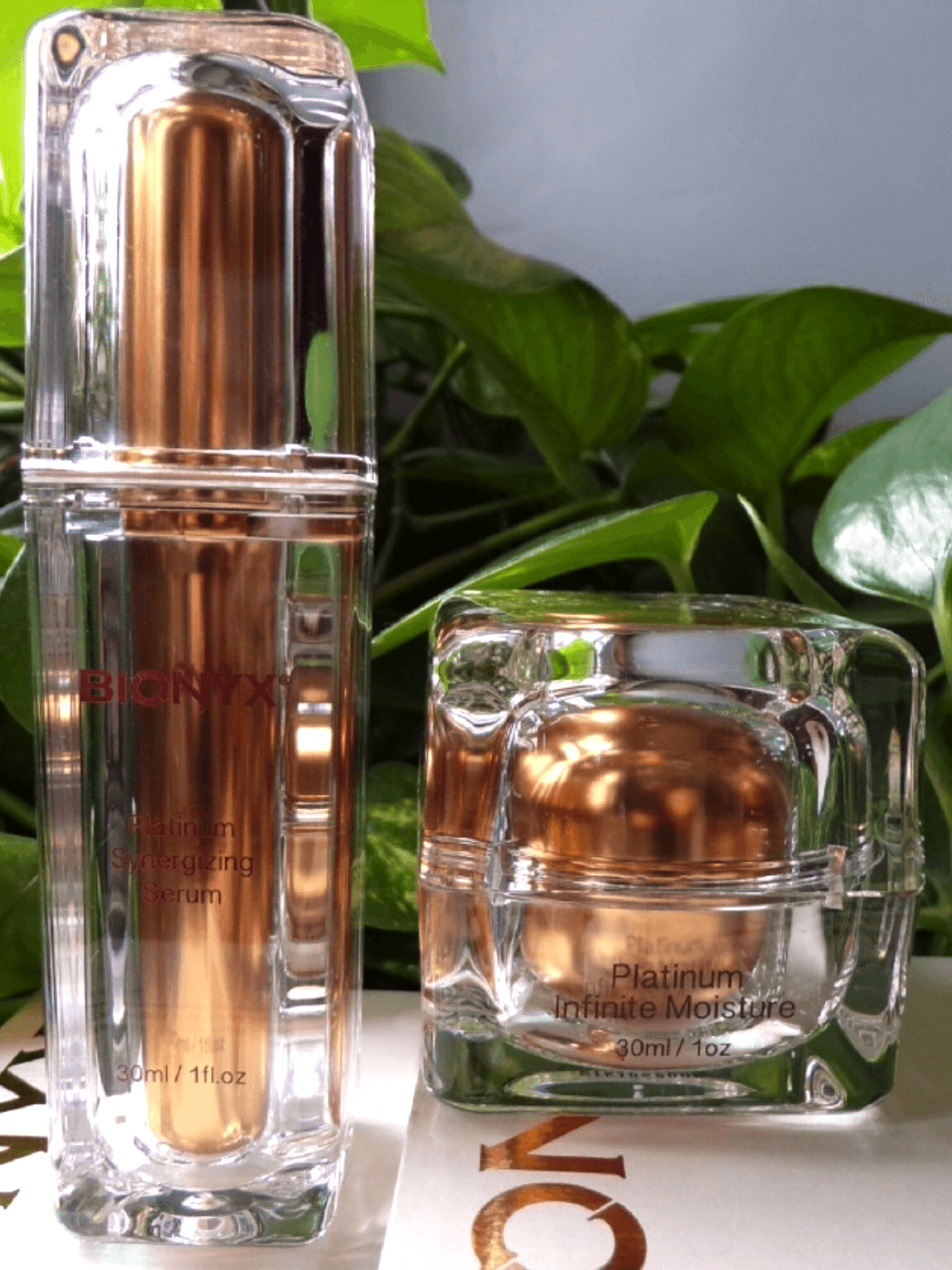 Bionyx – The Brand
With Colloidal Platinum in every product, Bionyx lives up to what they call, "The Platinum Standard." This natural antioxidant, mixed with their other nourishing and beneficial ingredients, gives Bionyx a unique formula for every product, perfected to reduce signs of aging.
When scanning their site, I enjoyed reading their information, including both the FAQ page, which included a list of questions and tips for applying your skincare, which some of will be listed close towards the end of the article, and the About page under "Bionyx – The Platinum Standard," which included a quick history of the element platinum.
The site itself doesn't seem to have too many reviews yet, and honestly, although it contains plenty of information, I wish they had a bit more about the brand and their background in itself.
My very first thought when initially opening my products was genuinely, 'Wow!' They have the prettiest packaging I've ever owned. The outsides of the boxes are coloring shifting in the light, and the labels are a pretty gold. The actual items themselves came in nice transparent and gold jars. Everything about the feel of the products was extremely quality and pleasant. Good thing for the price, too.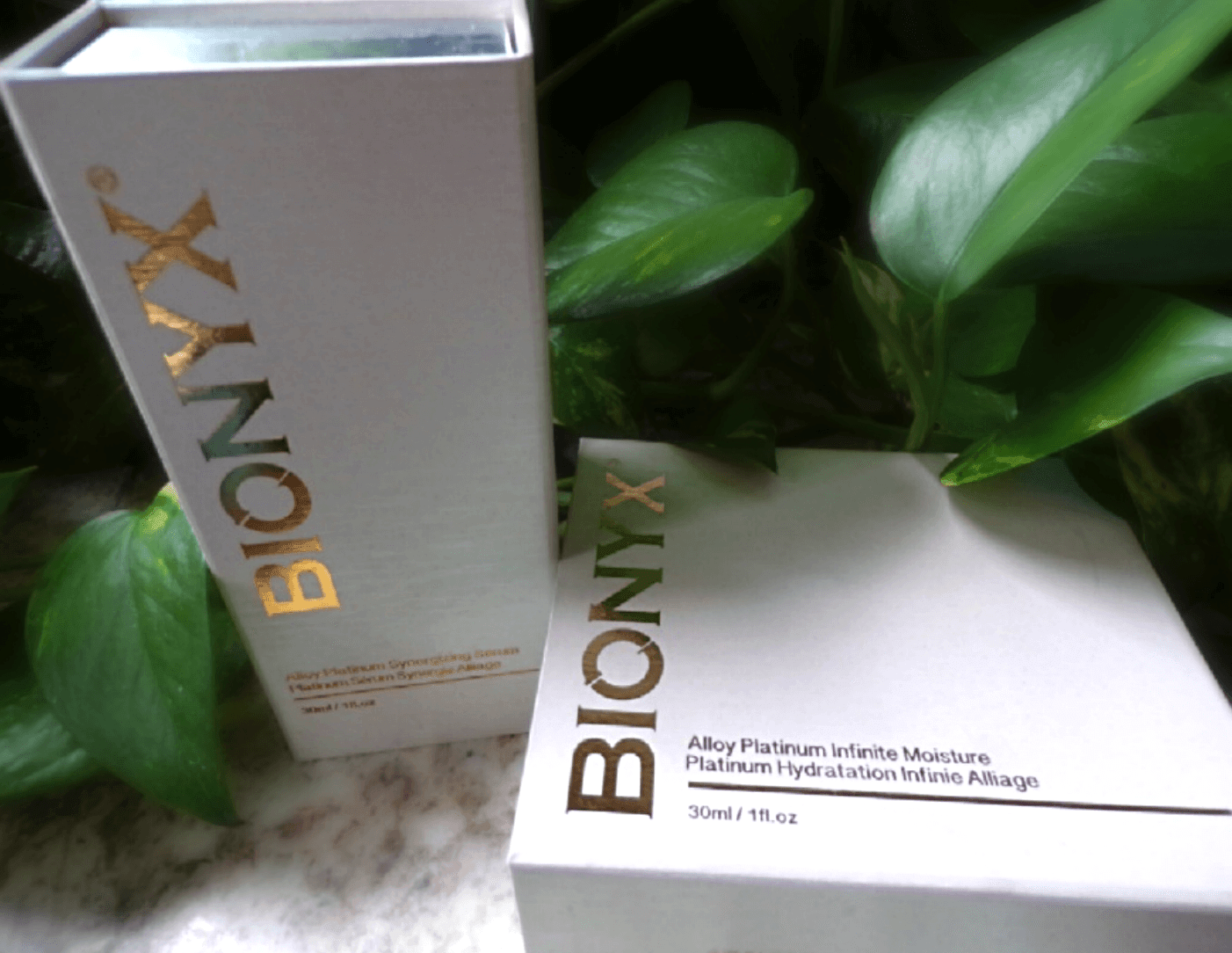 Before using any of the products, I already had high hopes. Any reviews I've found for the brand's popular items almost always recommend them, even at high price.
They do offer cheaper products than this set, though, so be sure to check those out and see results for yourself if you're still a bit wary after reading this.
Alloy Magnetic Synergy Mask
The Alloy Magnetic Synergy Mask from Bionyx promises soft, glowing skin. It contains copper, platinum, nourishing oils, and many other beneficial ingredients. Here are only some of the beneficial ingredients:
Copper

Increases collagen production in the skin

Colloidal Platinum

Antioxidant, restoring balance

Boosts hydration and elasticity

Has been shown to reduce and protect against signs of aging

Caprylic/capric Triglycerides

Main job: moisturize and replenish skin

Coconut Oil

Rich in antioxidants and vitamins

Rosemary Leaf Extract

Protects skin cells from sun damage

Antiseptic properties – extremely disinfectant

Sunflower Seed Oil

Moisturizes skin

Rich in antioxidants

Help regenerate damaged skin cells, eliminating bacteria
Bionyx' guarantee is that this mask "strengthens, balances, and encourages the production of collagen and elastin in your skin." This gives way to a plump, soft, and glowing complexion.
How To Use
Use weekly

Apply to a freshly cleansed face

Use a thin layer to lightly coat skin

Insert the magnet into one of the cloth sachets

Hold the sachet close to your face

The mask will slip off, leaving behind oils

Massage the remaining oils into your skin
The magnetic mask included in this set is really awesome. I've gone through many types of skincare products, but I've never owned anything like this.
Upon first opening this particular package, I was slightly confused. I'd never seen the cloth bags and magnet used for magnetic treatments like this one, so it was interesting to see for the first time. It also came with a mask applicator, which is always nice. The spoon is clear, though, which caused me panic for a split second when opening the box (I almost thought it was missing!).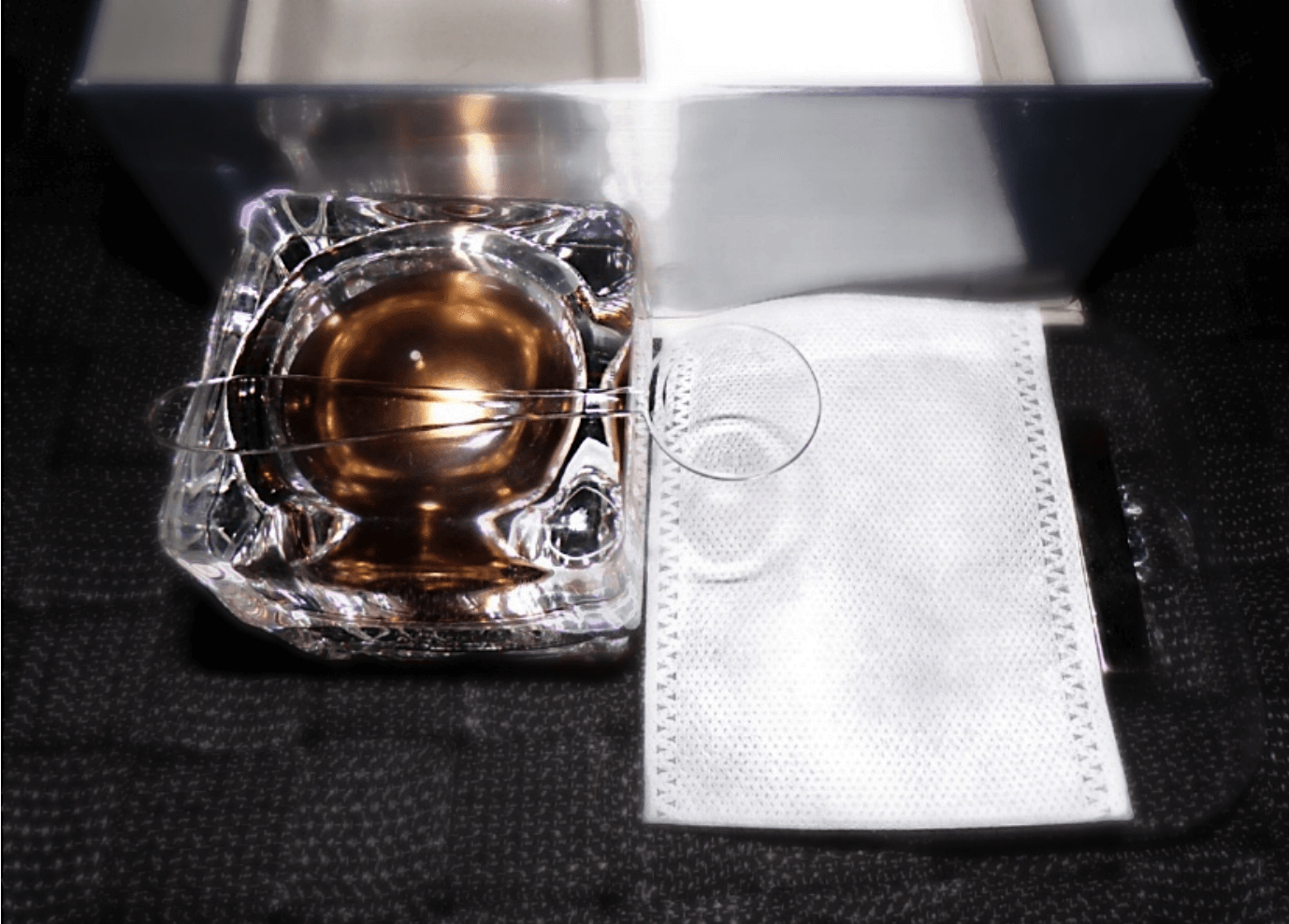 Super ecstatic to try something completely new, I used this the first day I received it.
Before giving any review of the actual benefits of these three products, I will say that I used most of my usual skincare items along with them, including my typical gel cleanser, cream cleanser, and toner!
Personally, I somewhat enjoyed and disliked the fancy but strange scent of this. It is definitely not overpowering though, so do not worry if you're sensitive. I always love the application process of masks, so this part was great, too!
If you have never experienced a magnetic mask, you are missing out on one of the coolest mask experiences. Invest in one, and you'll believe it.
After using this mask, following all of the directions, I will say I LOVED the results. Dull skin is something I've always wanted to change, and using this mask allowed me to see my face finally glow the way it should. I'm not saying one single use changed my skin completely, but it did change the appearance of my skin, even if just for a day for now.
Is it already my favorite mask? Although results were amazing, it's hard to say just how much better it is than cheaper solutions right now. Almost every mask I have used to brighten and balance skin has improved appearance, so I will continue use weekly and try to compare in a better way.
I will still greatly look forward to this mask application and removal every week. It feels nice, and truly let me show off bright, smooth skin for a change.
Alloy Platinum Synergizing Serum
"Lift, firm, and restore vitality" with the Bionyx Alloy Platinum Synergizing Serum. Infused with Copper and Platinum, this serum is to strengthen and balance your skin for a youthful complexion.
Some ingredients included:
Copper

Colloidal Platinum

Antioxidant

Helps strengthen skin

Glycerin

Moisturizes skin by drawing in moisture from the air

Creates protective layer to lock in moisture

Palmitoyl Tetrapeptide-7

Composed of amino acids that aid in reducing inflammation and skin damage

Stimulate regeneration of collagen
How To Use
Apply 1-2 pumps to freshly cleansed skin

If using mask as well, apply serum afterwards 

I prefer to pump the serum into my hand and apply evenly to my face

Massage into face and neck area
The other two products in the Ageless Alloy set come in cubical jars. This serum, as expected, comes in a taller bottle with a pump.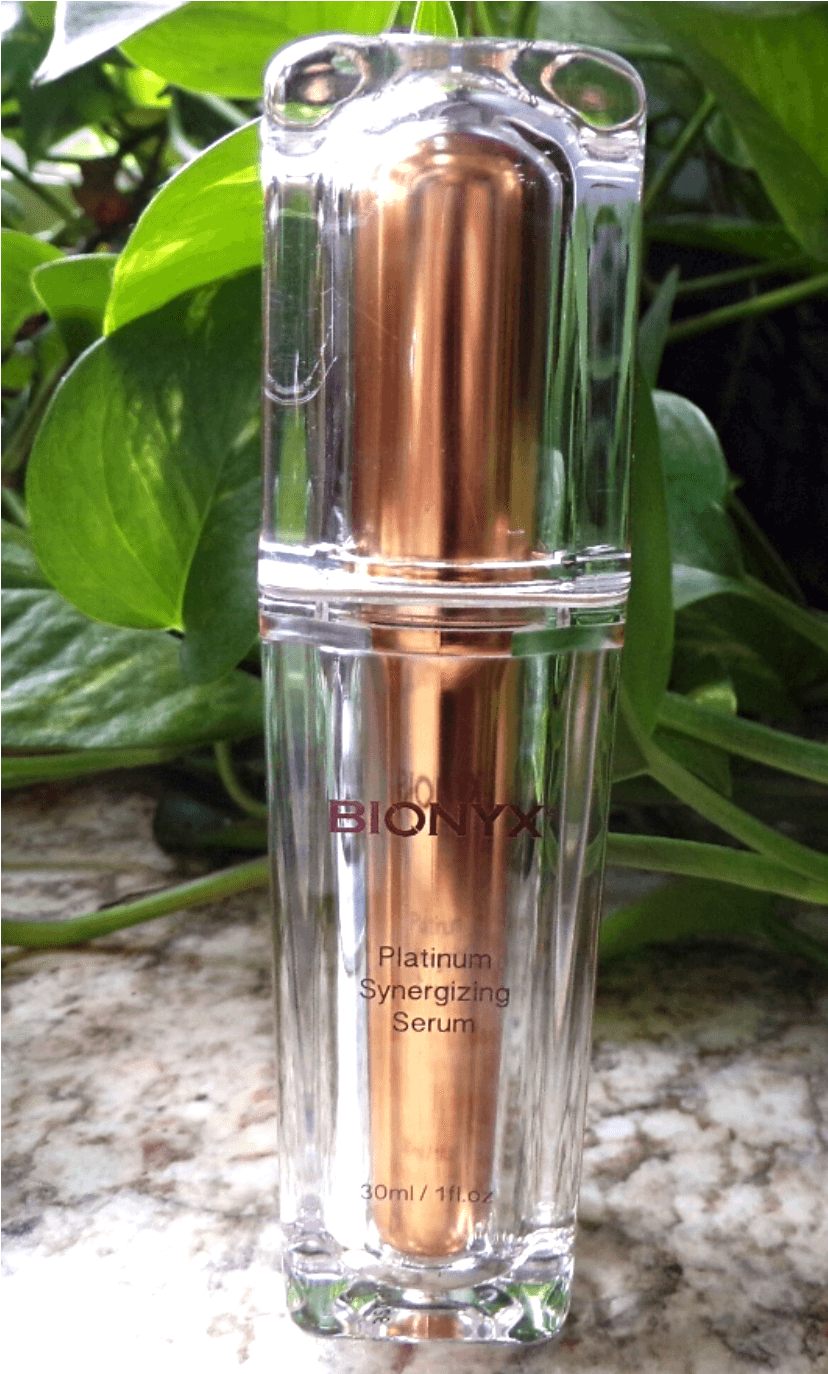 The smell of the serum is similar to the one of the magnetic mask, but I will not say I enjoy the serum's scent at all. Again, truly not overpowering, just not my favorite by any means.
Applying the serum was heavenly. It felt so smooth when first applied, and it got softer as I massaged it in. The application was not greasy and did not leave my face looking oily afterwards.
After using this for two days, both morning and night, my skin is looking better than any time recently. I'd say that this serum is responsible for a lot of said improvement. If you can overlook the odd smell, the Alloy Platinum Synergizing Serum is essentially the perfect serum for healthy, brighter skin.
Alloy Platinum Infinite Moisture
This moisturizer is said to help reach firmer and more supple skin, by lifting, smoothing, and restoring balance.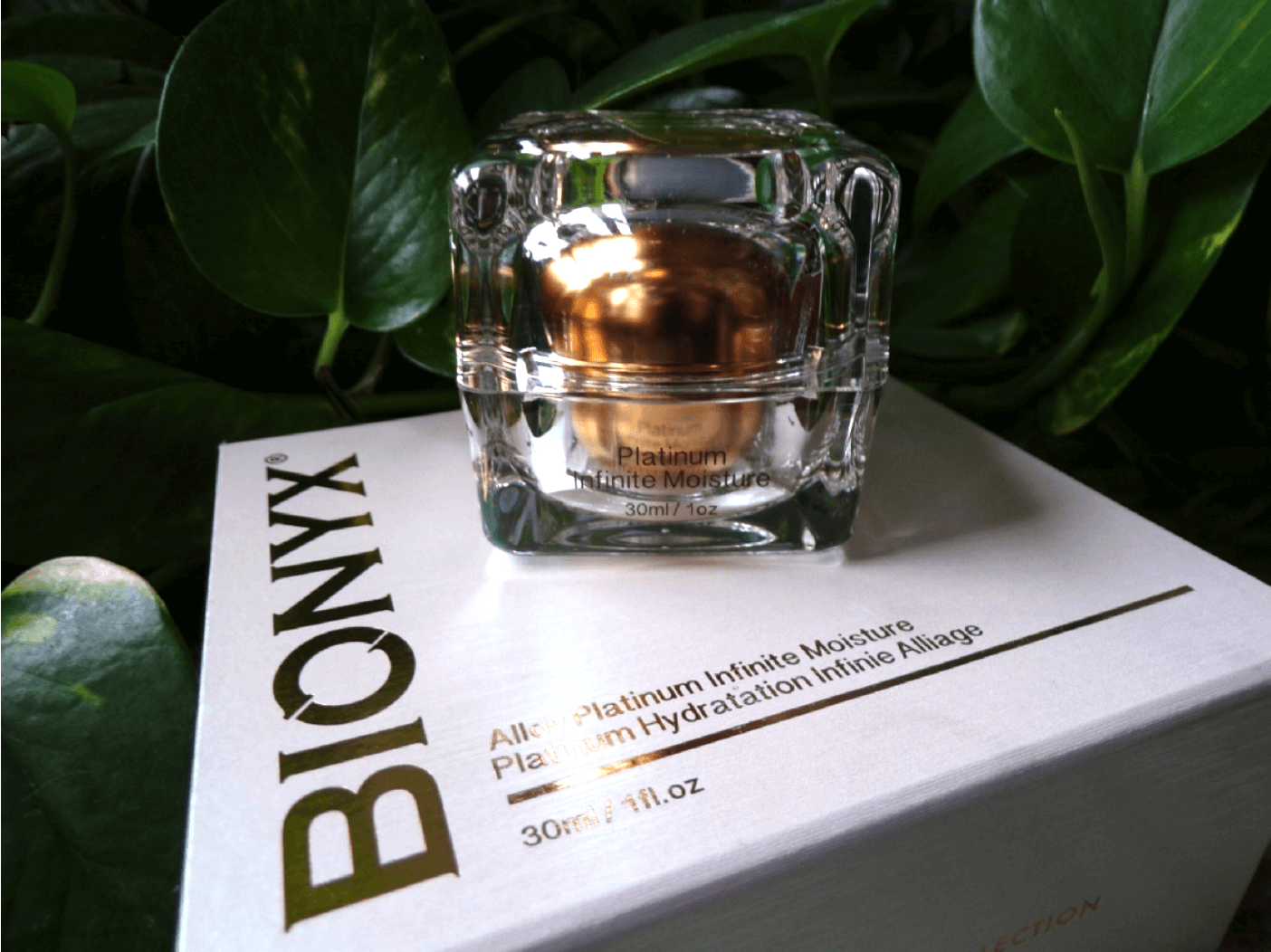 A few beneficial ingredients include:
Colloidal Platinum

Strengthening

Balancing

Antioxidant

Copper

Glycerin

Hydrolyzed Oat Protein

Anti-inflammatory benefits

Aids in soft, soothed, hydrated skin

Aloe Barbadensis Leaf Extract

Anti-inflammatory and soothing properties

Antioxidants, protecting from environmental damages

Green Tea Leaf Extract

High in antioxidants

Shown to be effective in anti-aging

Reduces appearance of significant sun damage
How To Use
Use on freshly cleansed skin

If you are pairing with the serum, do this step last after cleansing

Massage onto face and neck area until absorbed

Use daily or as often as you need
I suffer from dry skin and basically always have. I've found only about two products that moisturize my skin well enough for my liking. So basically, I was really excited to try this item out.
Alloy Platinum Infinite Moisture is supposed to be lush, lightweight, and absorb quickly, while still giving hydration and luminous looking skin. To me, that sounds perfect. But are all products that promise to be lightweight actually as lightweight on everyone's skin as they claim to be? Sometimes not, and I absolutely dread my face feeling sticky or too wet for too long after a routine.
Did Bionyx fulfill this promise of being lush and lightweight?
Definitely. I thoroughly enjoyed applying this moisturizer. It was simple but indulgent, and soft without being too thick, greasy-feeling, or anything of the sort.
I did actually notice a difference in hydration and glow within the first 24 hours, and I used the product twice. My face had zero painful patches from being too dry the next morning, which happens to me often in wintertime. After another day of using it twice more, I possibly noticed a bit more change, but it's hard to tell if that was just excitement.
I do firmly believe that when giving it some more time of consistent use, this moisturizer will do exactly what it promises. And so, I can almost guarantee this is going to be my new favorite moisturizer (which is sort of already is, but we'll give it time). 
So, should you purchase the Alloy Platinum Infinite Moisture? If you have the funds to drop, then yes. But I won't say it is necessary if you don't have the funds to spare. Through trial and error, you could possibly find a cheaper dupe to replace this luxury item – even if you'll likely feel more like royalty using this one.
FAQ & Tips from Bionyx
How long until you see noticeable improvements?
You may notice change within the first couple weeks, but overall you should use skincare products for a few months before seeing any remarkable improvement.
How do you know which Bionyx item to choose?
Know your

skin type

as Bionyx lists on their website which products are better for which skin.
Why does the eye area need specific products?
The skin around the eyes is the thinnest skin on the body.
Why do you need both a day and night cream?
During the day, you want a lightweight formula that will be able to deal with irritants and protect again sun damage.

During the night, there is so sun damage to worry about. This means your skin can focus on undoing this damage and rejuvenating your skin.
Overall Look at the Ageless Alloy Set
So, the Ageless Alloy Set by Bionyx costs $6,000. Most who use items by Bionyx will vouch that the luxurious ingredients such as Platinum and Copper justify the price.
If you are wondering if you should buy this, and you aren't still saying, "Why would you spend that much?" then perhaps invest in this set. The products are high quality and deliver exactly what's promised. The high-end ingredients could be exactly what you're missing if you are looking to perfect your skincare routine.
For the ones who are still worried about the price, if you have the money to spend, you won't be spending it pointlessly. You will definitely see results, and if you don't already have perfect and glowing skin, I guarantee you'll be very happy with what you see in just the first few weeks of use. Skin becomes more luminous, soft, and overall youthful.
Not only the results, but the packaging, the application, and everything having to do with these items are awesome. It's easy to find yourself indulging in your skincare each day after owning these.
Again, Bionyx offers cheaper – not cheap – but cheaper, lines of skincare. For example, you could check out their Platinum Complex Facial Peeling cleanser or their Platinum Essential Day Cream to get a feel for the brand first.