In the great State of New York, the weather can't seem to make up its mind. Every time I think that the sun is out to shine a storm is there to follow. My skin has been begging for a moisturizer that can keep up with these ever-changing temperatures.
Vivo Per Lei Botanical has created a Matcha formulated skin care system that has changed the way I see skin care. After a few weeks of trying Vivo Per Lei products my body care routine and teeth regime has totally changed!
I was excited to see that their Matcha infused Body Scrub and purifying Body Butter not only hydrated my skin but locked in moisture and left my skin feeling like silk.
Vivo Per Lei sent me three amazing products to test out, Matcha Renewing Body Scrub, Matcha Purifying Body Butter, and Charcoal Blast Teeth Whitening Powder. After using these products for about two weeks I can confidently say that my skin has evened out and my smile is much brighter.
I am finally taking extra time out of my day to pamper myself! This has been a lesson in healthier skin and teeth care as well as a reminder that it is okay to take time for yourself.
Mad about Matcha?
Now you may be wondering what all the fuss is about, but Matcha is becoming an on-trend topic.
In tea form, it is known for its amazing health benefits and afternoon pick me ups. I was pleasantly surprised to see this ingredient move into the skin-care world. Many different cultures have used Matcha on their skin and this trend is moving into 2019!
Here are just some of the benefits of using Matcha in your skin care routine!
Helps Treat Inflammation: Matcha is gentle enough to use on all skin types and it contains EGCG (short for epigallocatechin gallate), this helps reduce inflammation and redness on the skin. EGCG is also known for its ability to prevent certain cancer cells from forming on the skin.
Diminishes Signs of Aging: This is one of the biggest skin care concerns. Matcha helps stimulate the elastin production, which adds volume to the skin while protecting it from damage.
Treats All Skin Types: Matcha is a natural ingredient that works for all skin types. This includes young skin to mature skin.
Improves Complexion: Matcha can help exfoliate dead skin and then rejuvenate the skin underneath.
Treats Oily Skin: Matcha helps shrink pores and it helps remove excess oil from the skin.
Matcha Renewing Body Scrub
The Matcha Renewing Body Scrub comes in a beautifully packaged 10.93 oz bottle. When I opened up this bottle, I was pleasantly surprised! This is unlike most scrubs I have used because this one had a completely unique feel and smell.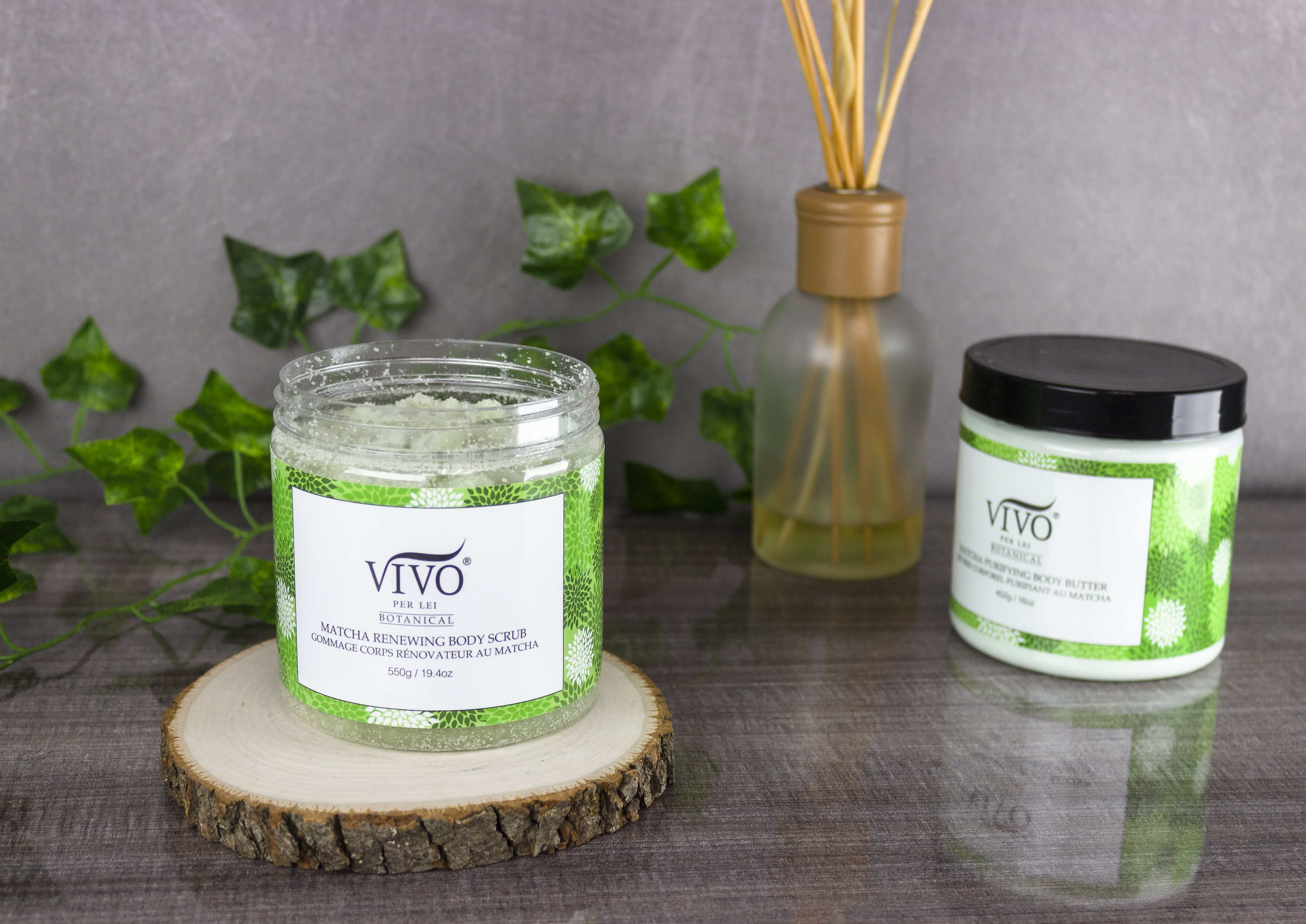 The initial smell is soft and fresh, it has a hint of a floral smell but it is very light! This is a great scent for people who are sensitive to smells. I left it open next to me while lying in the tub and was much more relaxed.
This scrub had a lot of surprising aspects!
The one thing that stuck out to me was that the oil was naturally spread throughout the formula; it did not sink and sit at the bottom of the bottle. I have bought way too many scrubs that separate and become heavy when applied to the skin. Most of these products were harsh and left a residue on the skin. It did not accumulate oil at the bottom and have a "sludge" feel. This was a huge win for me!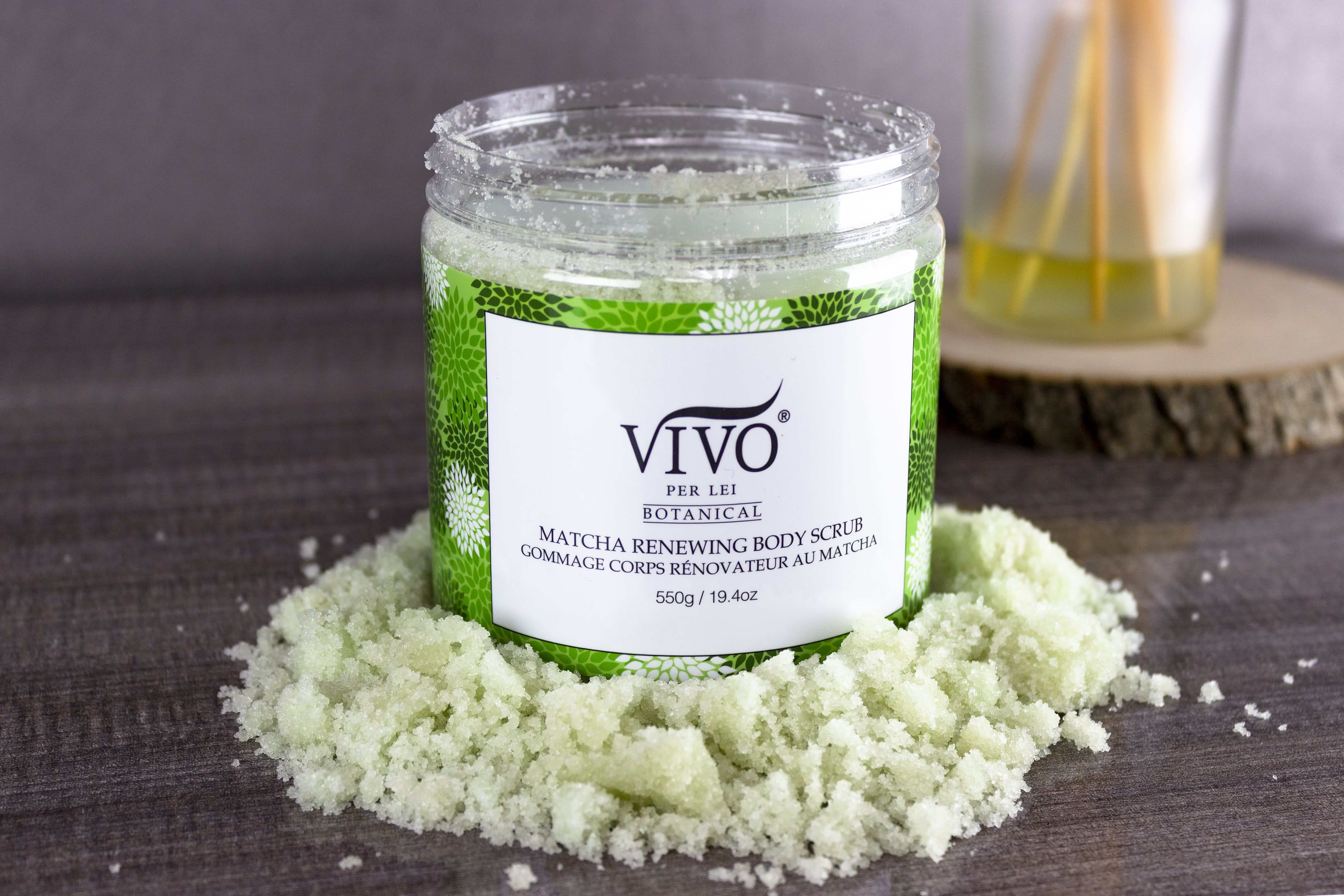 The special part of this product was that it was both soft and gritty. Now: The Renewing Body Scrub has a delicate sand-like grit. You may be thinking, how can sand be delicate but gritty, right?
Well, this is what surprised me the most, it is soft to the touch but it starts to add exfoliation as you rub it into your skin. When I used it, I focused on all the areas that were suffering from dry winter skin. My skin was out of balance and it needed a pick me up.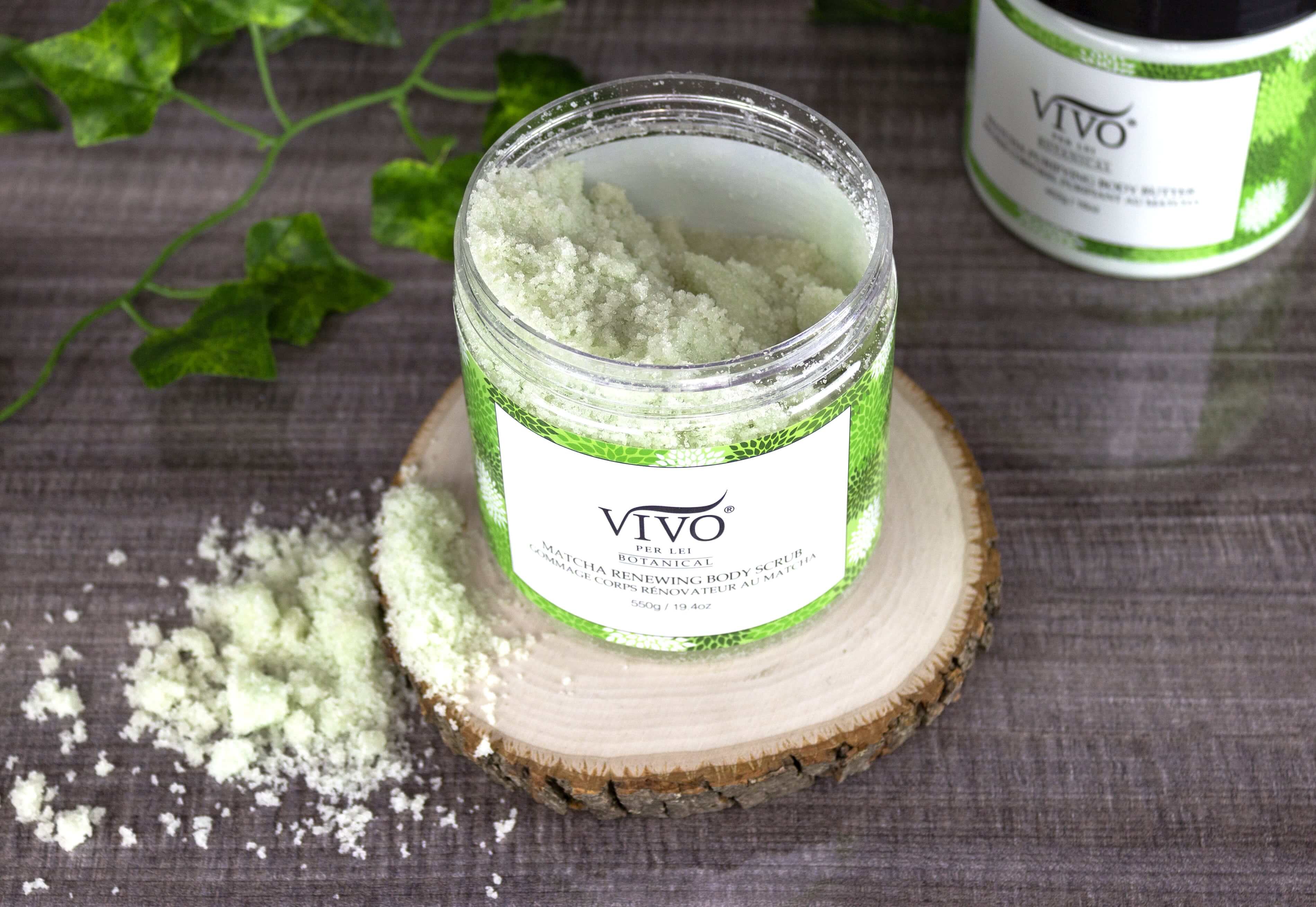 In the past two weeks, I have used this scrub around 5 times and I used it twice before shaving. For the best results, you want to wet your skin and use a small amount on the body.
The trick to this scrub was massaging it in circular motions. The more you massage it into your skin the more it would dissolve and allow the oils to penetrate the skin. I have normal to dry skin and this scrub would work for most skin types, even sensitive skin. It is light enough that it won't "scratch" or irritate the skin. If you feel like it doesn't give you enough exfoliation you can add more, giving you a deeper effect.
The two times I used this before shaving I felt like I had considerably to less irritation from shaving. Normally, shaving creates red bumps and all over redness but this eliminated this problem (following up with the Matcha purifying Body Butter was a huge help!). It didn't pull out moisture from my skin like a lot of scrubs and I didn't feel like my skin was dry after exfoliating.
This scrub did a two in one, it removed the dead skin and build up while keeping my skin feeling moisturized.
Matcha Purifying Body Butter
The Matcha Purifying Body Butter comes in a 16oz tub and has the most luxurious smell. It is a clean and fresh smell with a hint of floral, it is not overpowering!
Being a mom, I want to feel young and fresh and this didn't give me an older feel, it made me feel vibrant. This was an easy scent for me to wear because it is subtle and uplifting.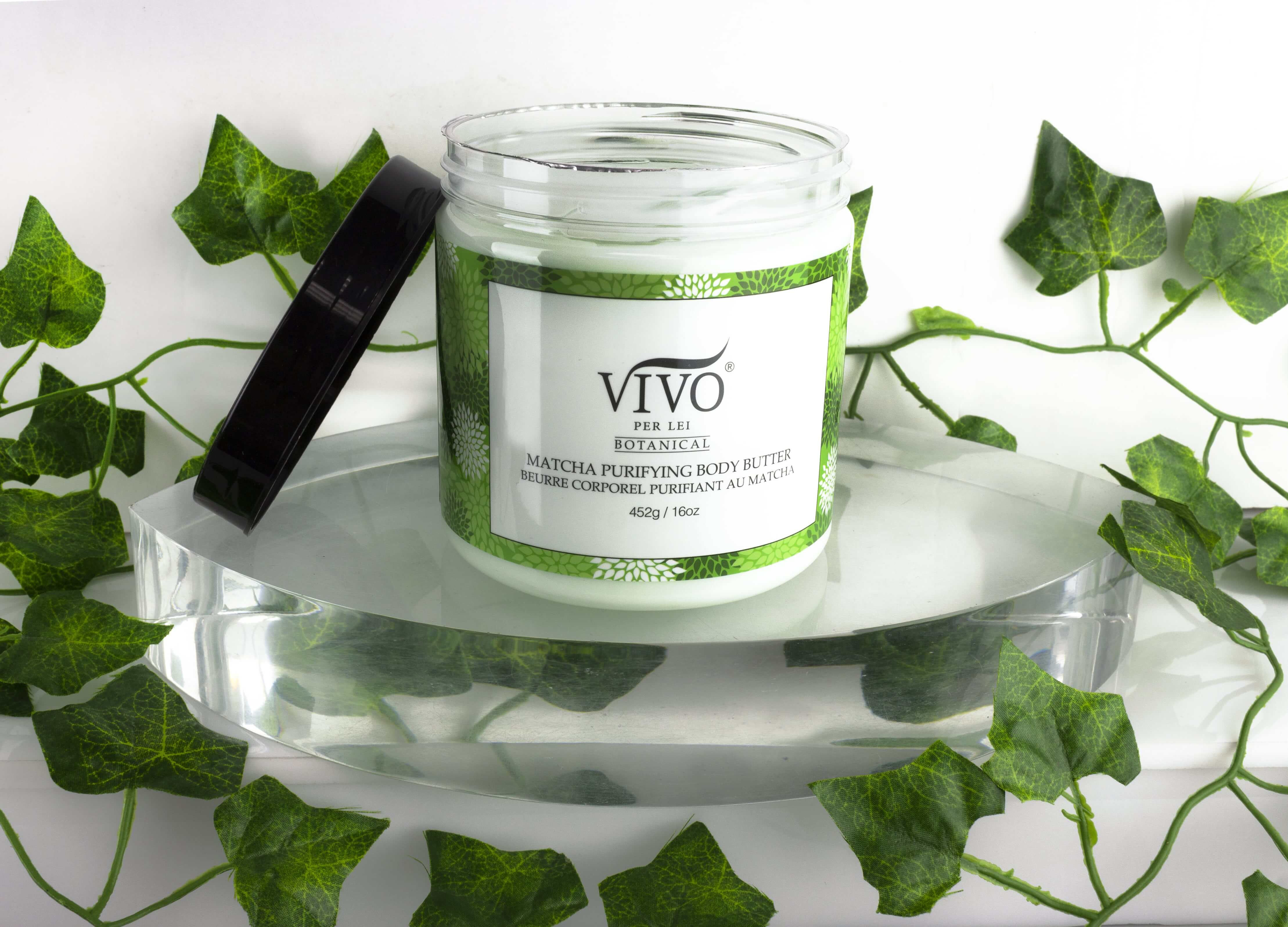 The bottle says to use daily on freshly cleansed skin, massaging liberally over your body until fully absorbed. I am completely enamored with the health benefits in this bottle. I have been following Korean skin care trends for a while, but have not had the chance to use Matcha and Green Tea in my skin care.
The first thing you will notice when you open the bottle is how smooth and light this body butter is. It is a gorgeous light mint color and it feels like silk against the skin.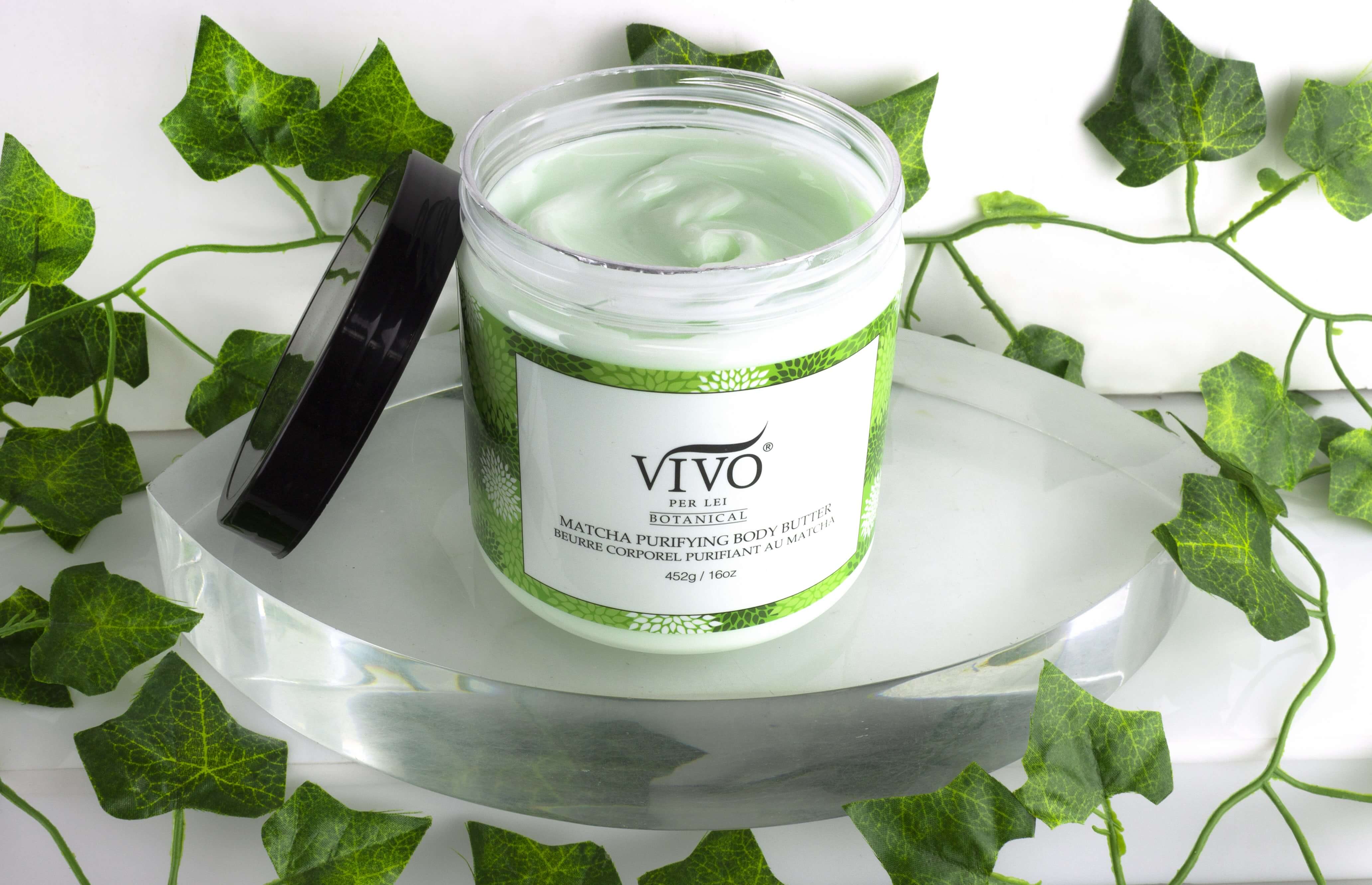 I have been using this twice a day, once in the morning and once before bed. Since I am in the middle of the snow apocalypse, I have put a little extra on my elbows, legs, and ankles. Who knew your ankles could become dry? A little bit goes a long way!
This has completely changed the texture of my skin.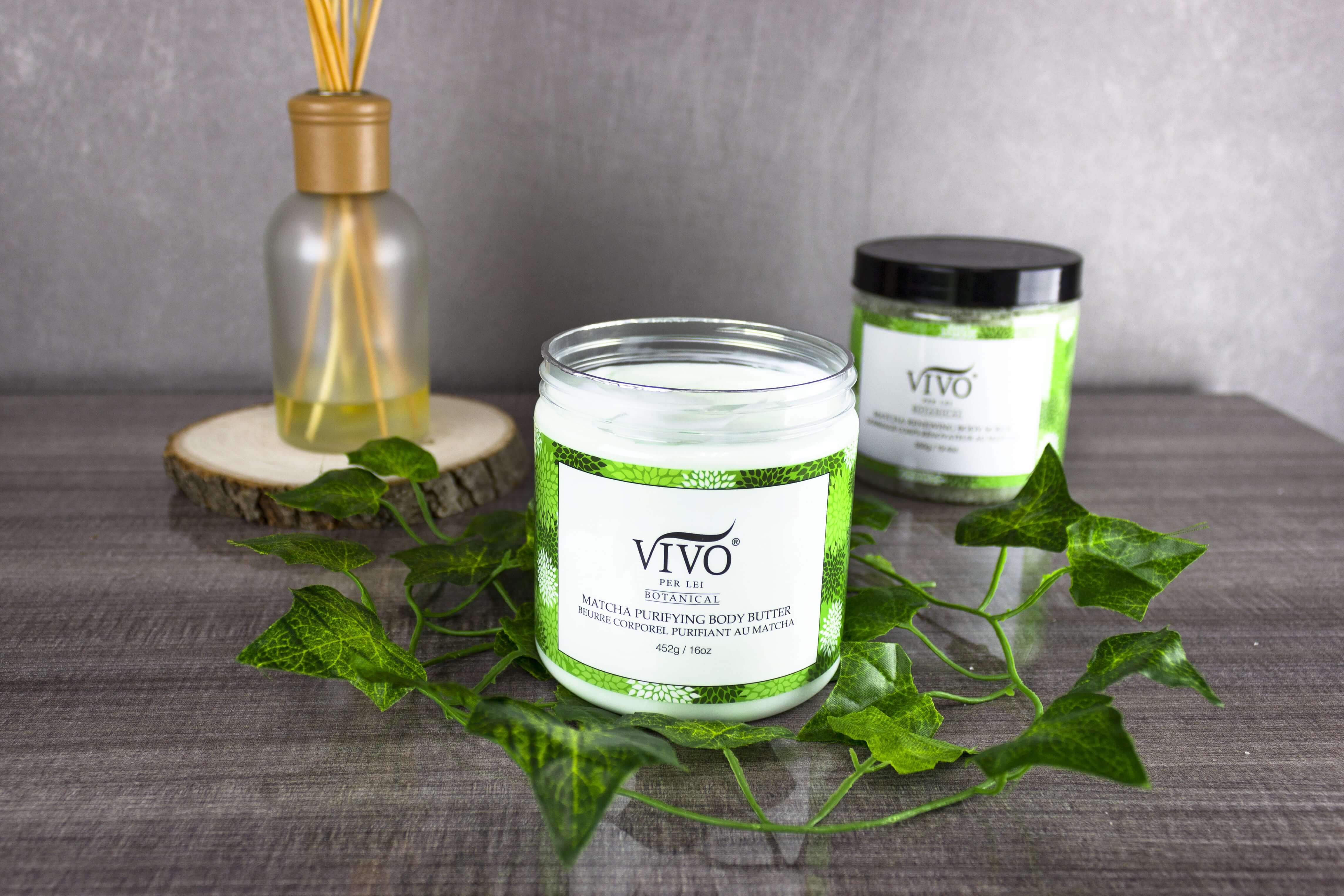 I use a small (finger dollop sized amount for my arms) and rubbed it in with circular motions. Like I stated above it makes your skin feel like silk. I put it on one arm to compare it to the other non-lotioned arm and the difference was crazy. My skin not only felt smoother it looked smoother.
I noticed that it filled in some of the lines on the back of my hand and up towards my neck. Now here's the kicker, even though the body butter is thick it absorbs into the skin rapidly. This is different from most lotions because it doesn't leave you feeling greasy or oily, it actually did the opposite. I felt clean and put together, especially after exfoliating with the Matcha Renewing Body Scrub.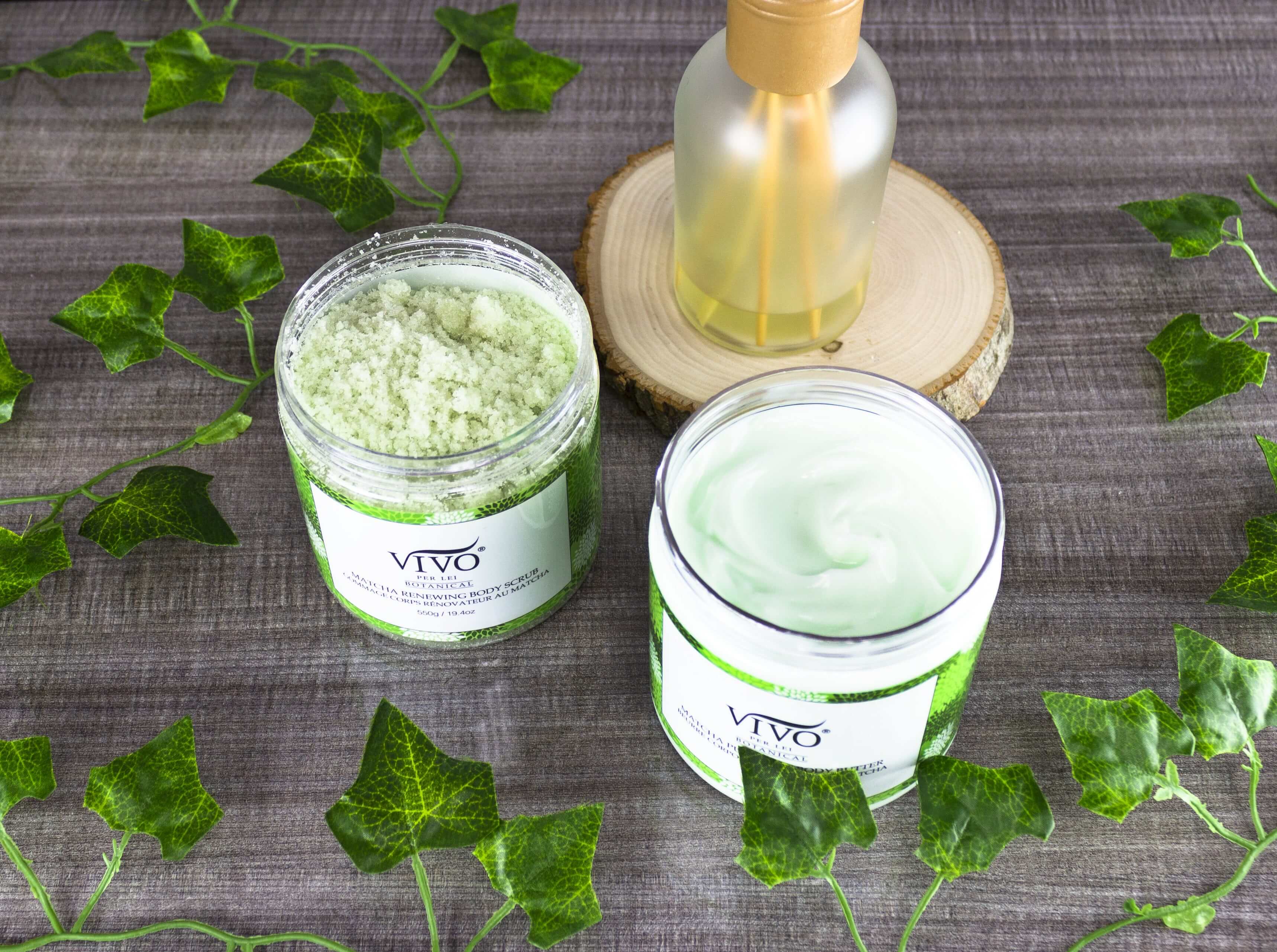 If you are busy like me, this was a great excuse to take an extra five minutes to myself and perform some self-care. I can confidently say that I don't have dry or itchy skin which makes me feel more confident in my own skin.
On Trend with Charcoal!
Activated Charcoal isn't your run-of-the-mill coal.
This is a fine black powder that is made from coconut shells, olive pits, and other materials. The charcoal will go through a process where it is heated and activated. After it is heated, the structure of the charcoal changes to become more porous. By heating the charcoal up, it gets rid of any toxins that are detrimental to your health.
The benefits of activated charcoal are overwhelming. It is known to trap impurities, harmful substances, and absorbs toxins.
Most tubes of toothpaste are filled with tons of harsh chemicals and activated charcoal is a natural way to whiten and brighten your smile. When used properly it absorbs mouth bacteria and removes stains from your teeth.
Vivo Per Lei uses a very fine charcoal powder for the best potency. 
Reduces Stains & Plaque

Cleans & Whitens Teeth

Eliminates Bad Breath

Promotes Healthy Gums
Charcoal Blast Teeth Whitening Powder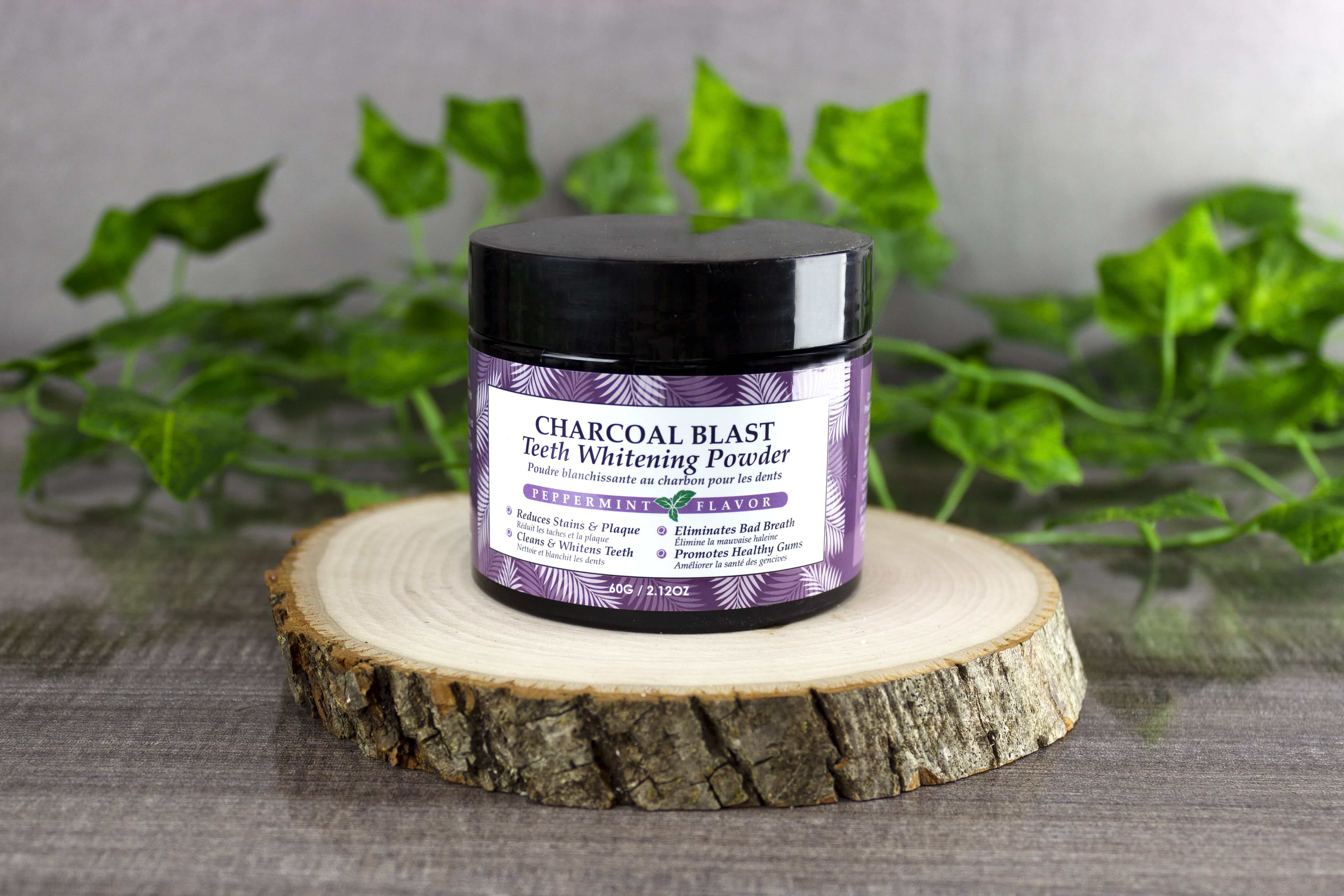 If you drink coffee, soda, or wine then you know what I am talking about when it comes to stained or yellowing teeth.
I have struggled with this for years and have been looking for a natural way to whiten my teeth. Let's face it, our smile is what people notice and I want to feel confident when I smile. It is time for me to stop the fake closed-mouth smile for pictures and embrace my real smile.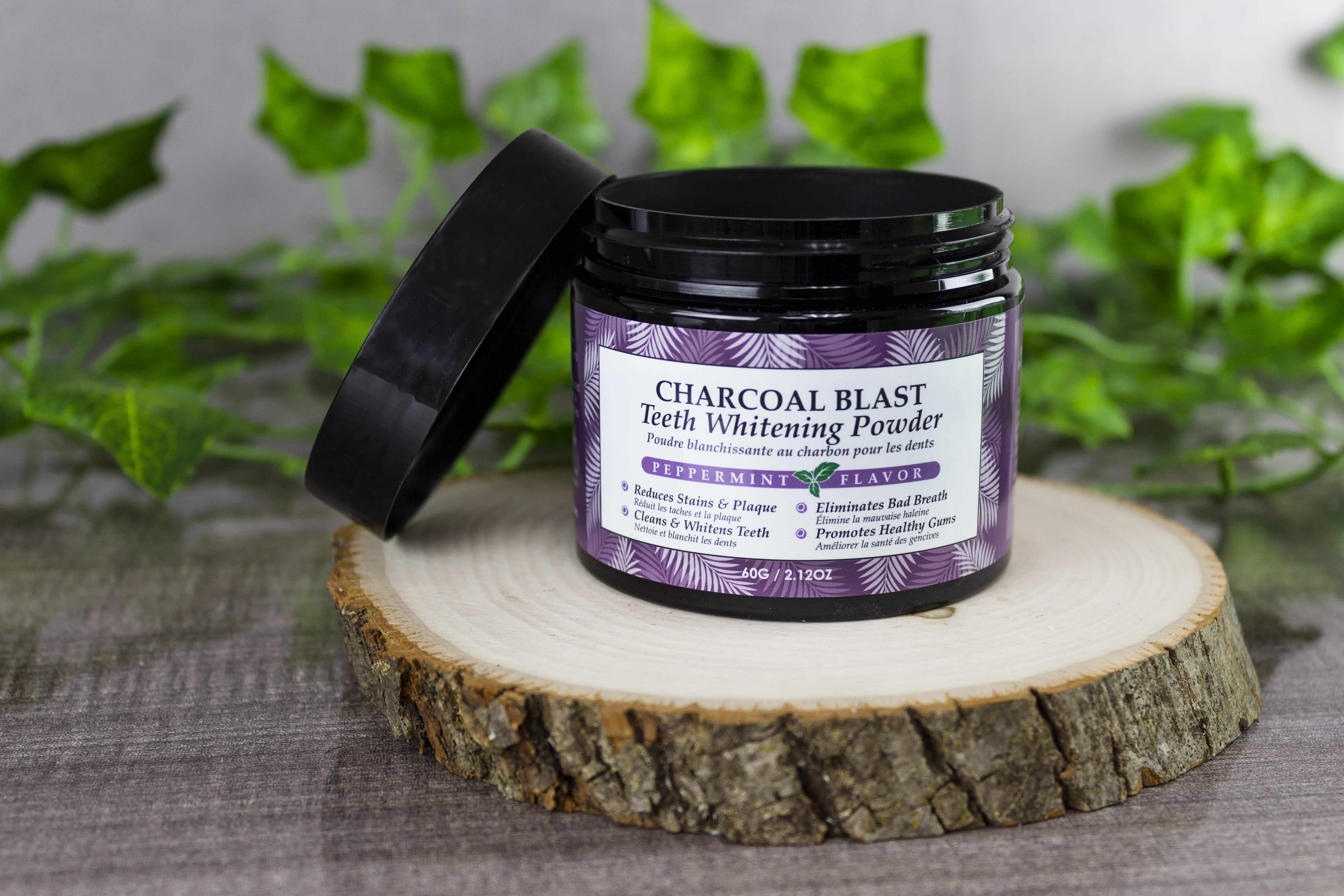 I was a little intimated when I opened up the container, but excited none-the-less (make sure to open the tab very carefully so the powder doesn't go flying through your bathroom).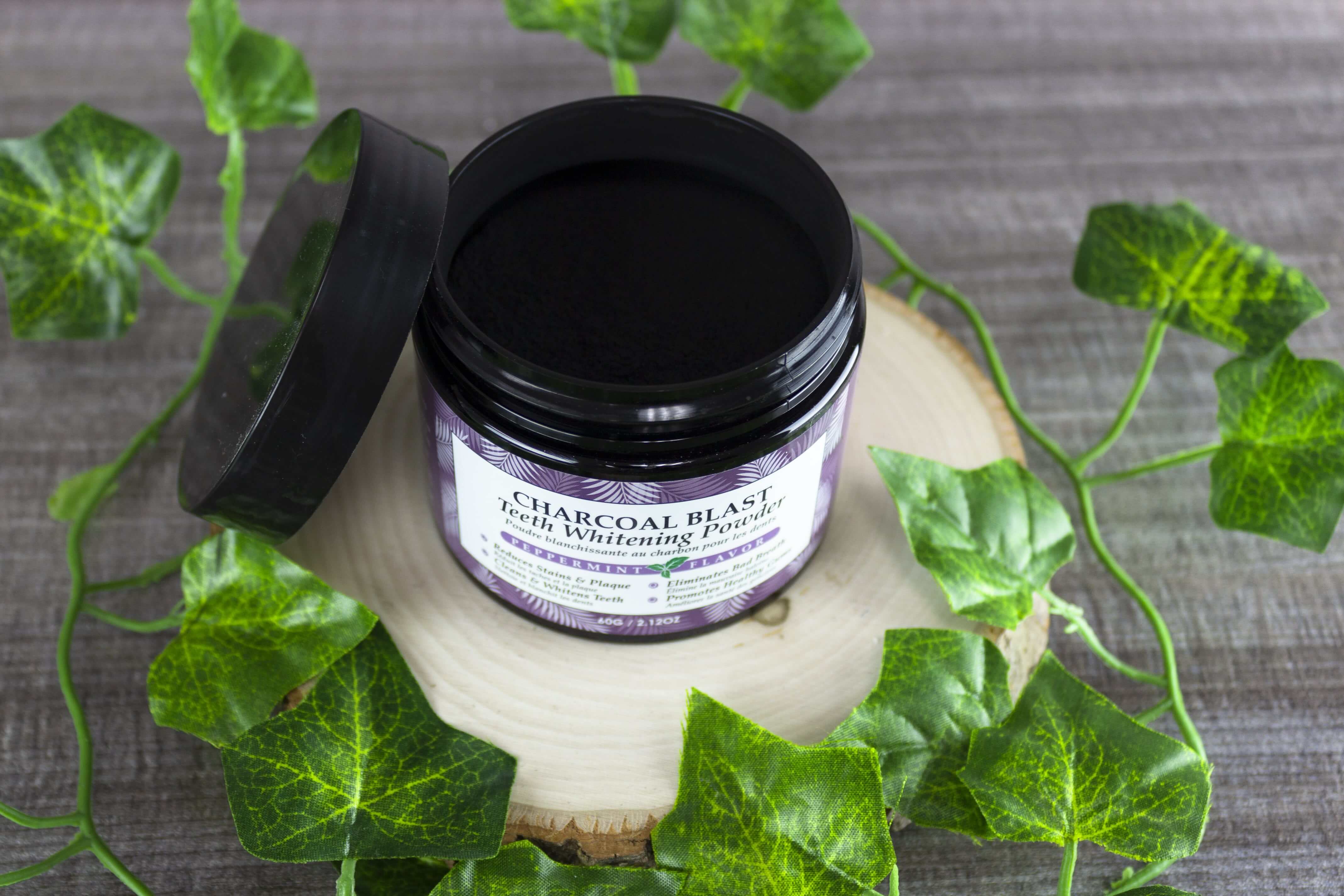 The first thing I did was wet my toothbrush and dipped it in the powder. This took some trial and error because the powder sticks to your toothbrush. You don't need to put your toothbrush in hard, just dust it over the powder. It is easy to accidentally use too much!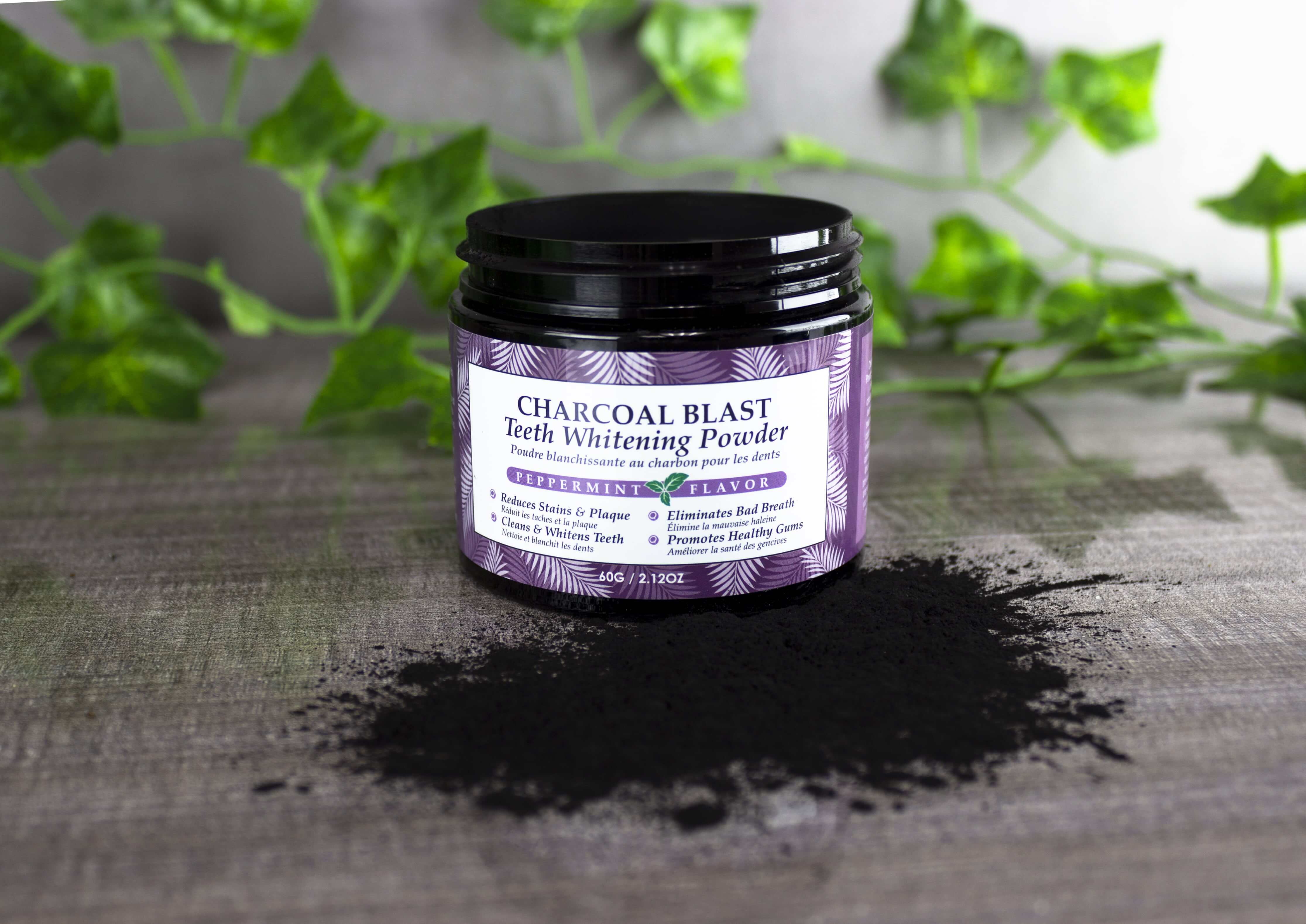 Once the powder is on the toothbrush you will want to brush for 1-2 minutes just like you would with regular toothpaste. As you brush the powder changes into more of a liquid type of feel. As you brush your teeth will turn black, but it does not leave any residue.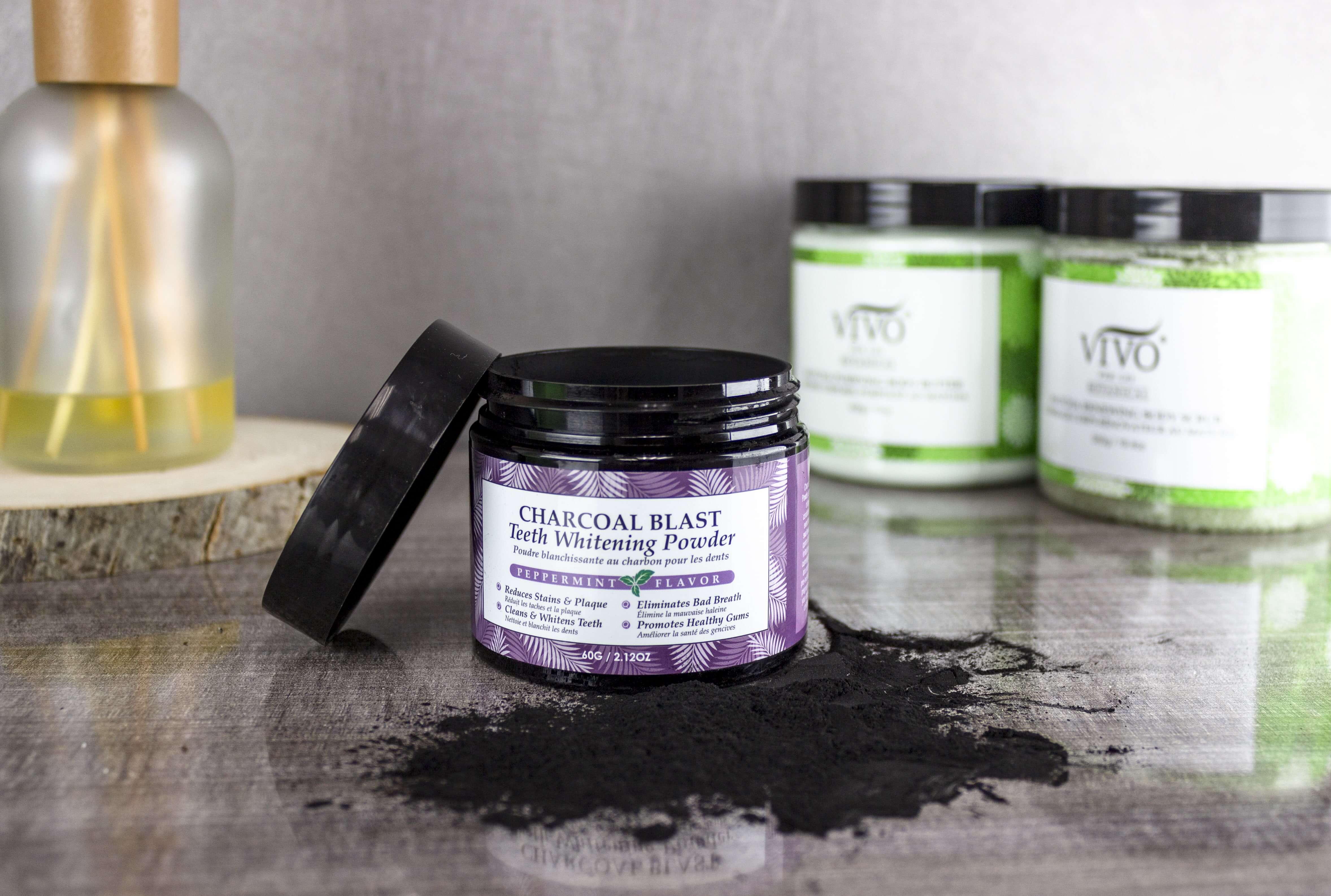 You can see how the powder gets into all the cracks and crevices in your teeth. Once you are done brushing wash with water and spit anything out. It might take a few rinses, but your teeth will appear whiter after!
It leaves your teeth feeling clean, I noticed that my teeth felt cleaner and my breath was quite a bit fresher.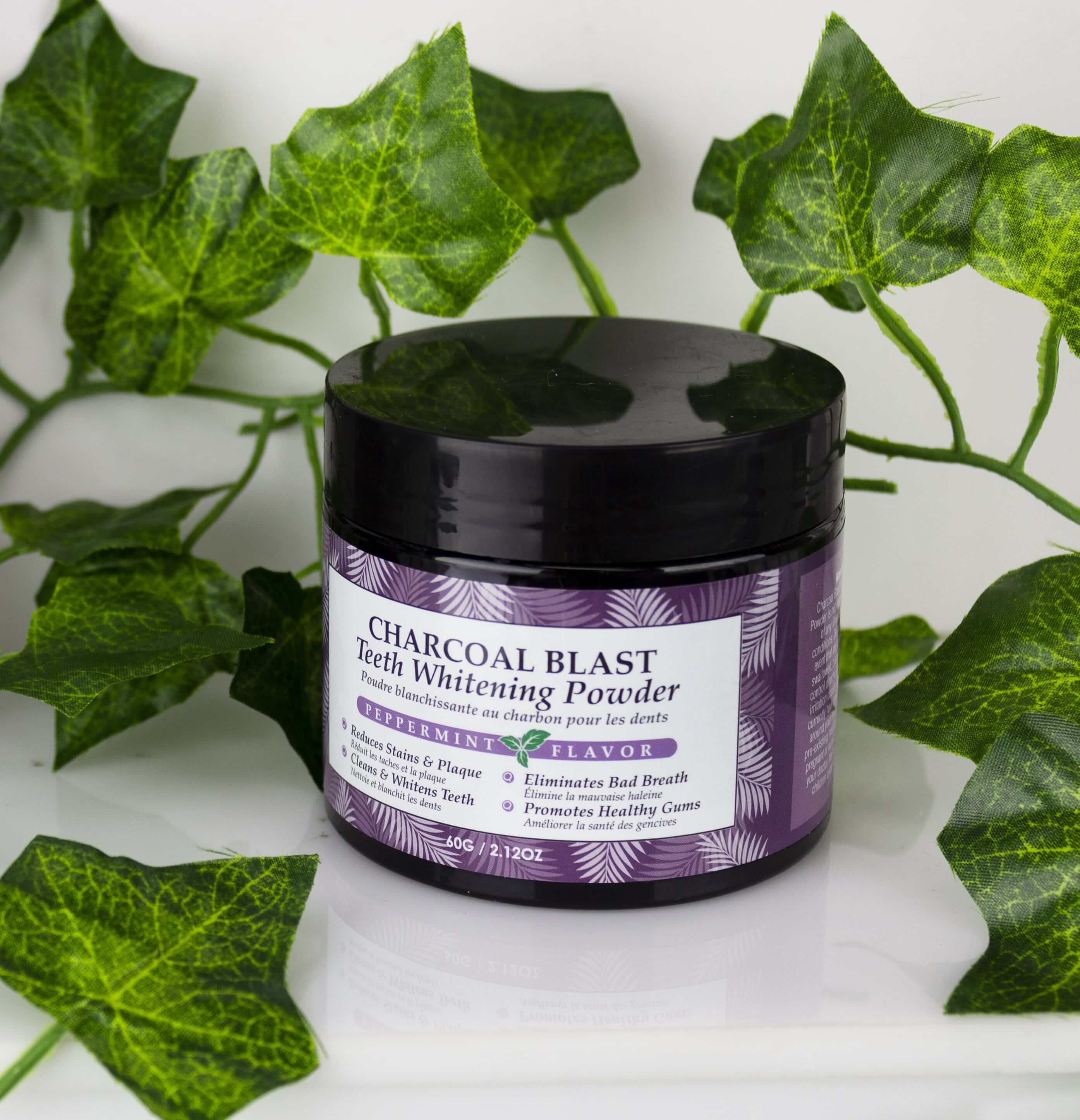 The powder has a light peppermint flavor that is subtle but there! The peppermint flavor makes it easier to get used to brushing with powder.
Going from a paste to powder is a huge textural difference! Using this 1-2 times a week with my regular routine has made a difference in my breath and the color of my teeth. After four uses I am starting to see my smile getting whiter! I am excited to continue using this to see its long-term results.
The Verdict is in!
Vivo Per Lei has thoroughly impressed me. My skin care routine is slowly changing and morphing into a healthier and more luxurious routine. I found myself taking an extra five minutes to apply the scrub or the lotion and spending more time on me.
It hasn't just changed my skin, it has started to change the way I feel about myself. It has made me more aware of the time I haven't been spending on me. Ultimately, I realized that I wasn't making time for self-care or "me time".  Taking a longer bath with a scrub and then following up with an airy lotion is the perfect way to unwind after a long day.
This has been beneficial in multiple ways, I take more time for myself each day and I am becoming more confident in myself. Smiling brighter and having smoother skin is just the beginning to a healthier and affluent skin care routine.
Matcha and Charcoal are being added to my daily skincare routine.